Panasonic Exits US Cable Set-Top Biz
Panasonic Corp.
(NYSE: PC) is exiting the set-top box business in the U.S., despite making progress with at least two major cable MSOs,
Light Reading Cable
has learned.
Two industry sources said Panasonic made a "strategic decision" to shut down the cable group as it looks for ways to cut costs and improve the overall health of the company. Panasonic, whose credit rating was
recently downgraded
amid fears that the company will have trouble turning around its unprofitable television business, reported a fiscal second-quarter loss of 105.8 billion yen (US$1.36 billion) while revenues declined 6 percent year-on-year.
Sources said Panasonic notified customers last week of the decision to get out of the domestic cable set-top business. It is believed that Panasonic's cable set-top group employs about 30 people, and operates offices in New Jersey and in Broomfield, Colo. It was not immediately known how many from the unit will stay with the company.
Panasonic has not announced any recent U.S. cable wins, but it is understood that it was making significant strides at
Time Warner Cable Inc.
(NYSE: TWC) and
Cablevision Systems Corp.
(NYSE: CVC). Cablevision has becoming increasingly reliant on
Samsung Corp.
as the MSO expands the reach of a downloadable video security system, and Panasonic was poised to become that MSO's second source for boxes that supported the new encryption scheme. (See
Samsung Boxes Break In at Cablevision
and
Cablevision Eyes $50 Set-Top
.)
Although Samsung,
Pace plc
and
Technicolor
(Euronext Paris: TCH; NYSE: TCH) have managed to break in, the loss of Panasonic leaves one less viable challenger to
Motorola Mobility LLC
's and
Cisco Systems Inc.
(Nasdaq: CSCO)'s weakening hold on the U.S. cable set-top and security market.
It was not immediately known how the decision will affect Panasonic's plans to support cable TV services in connected TVs. At last month's
International CES
in Las Vegas, TW Cable
demonstrated an app
it is developing for Panasonic Viera TVs that would stream the MSO's subscription TV service without the need for a separate set-top box, according to a report from NewTeeVee. Panasonic had yet to supply a statement on the status of its U.S. cable business as of Sunday afternoon.
The decision to shut down the U.S. set-top group effectively ends Panasonic's latest flirtation with the cable industry.
Panasonic's cable past
Before jumping back into the game and hiring cable vet David Nicholas to head up Panasonic's U.S. cable group in 2010 and to reset its strategy, Panasonic had focused its domestic cable strategy on
tru2way
and working with
Comcast Corp.
(Nasdaq: CMCSA, CMCSK).
In 2006, Comcast awarded Panasonic an initial order of 250,000 HD-DVR boxes. At the 2008 CES, Panasonic and Comcast announced a portable DVR based on tru2way that never got deployed. Panasonic later dabbled in a new breed of "set-back" tru2way boxes designed to mount on the back of some flat-screen TV models. That strategy didn't go anywhere, either. (See
Panasonic Names US Cable Leader
,
Comcast, Panasonic Unveil Portable DVR
,
Comcast, Panny Polishing Portable DVR
and
CableLabs Clears Panasonic Tru2way Box
.)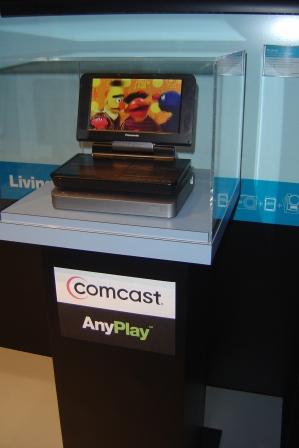 Panasonic also was a champion of tru2way at retail, teaming with Comcast to sell two tru2way HDTV models in Chicago; Highlands Ranch, Colo.; and Atlanta. They didn't sell well as consumers balked at a paying a premium that made tru2way sets about $200 to $300 more expensive than similar TV models. Panasonic stopped selling tru2way TVs in 2010. (See
Denver, Chicago First to Get Tru2way TVs
,
Panasonic Tunes Out Tru2way TVs
and
Tru2way: Epic Fail at Retail
)
Much of Panasonic's initial tru2way efforts were under the direction of Dr. Paul Liao, who was the CTO of Panasonic North America before being appointed president and CEO of
CableLabs
in June 2009. Liao won't be staying on with CableLabs when his contract with the Colorado-based R&D house expires at the end of 2012. (See
Panasonic's Liao Is New CableLabs CEO
and
CableLabs Confirms CEO's 2012 Departure
.)
— Jeff Baumgartner, Site Editor,
Light Reading Cable
PARTNER PERSPECTIVES
- content from our sponsors