Panasonic Corp. (NYSE: PC) is nearing launch of a new tru2way set-back box (SBB) that would convert the company's Viera brand high-definition TV sets into two-way "digital cable ready" units, but it's asking the Federal Communications Commission (FCC) to lift a rule requiring that the box embed an analog tuner.

Panasonic highlighted the plan in an ex parte document filed Dec. 2 that describes a meeting between several Panasonic executives and FCC officers, including Panasonic CTO Eisuke Tsuyuzaki and FCC Media Bureau Chief William Lake.

Panasonic unveiled the tru2way-based SBB at the Society of Cable Telecommunications Engineers (SCTE) Cable-Tec Expo last month. The hideaway box is designed to latch to any Panasonic Viera HDTV (from model year 2009 forward) and communicate via an HDMI interface.

Although the SBB would be hidden from view, it would perform all of the functions of a regular tru2way set-top, capable of accessing the MSO's parental control features, electronic program guide, video-on-demand, switched digital video (SDV) lineup, and any other interactive apps supported by the MSO.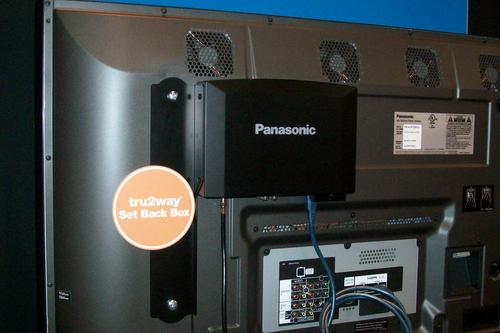 Target: Retail parity
Panasonic visited the FCC to make a case that its SBB should not have to be saddled by a rule requiring the box to house an analog tuner, a rule that would only add costs and put constraints on the physical size of the device, the CE giant contended.

The consumer electronics giant also argued that sidestepping that rule would also help it obtain "retail parity" with leased, all-digital set-tops being deployed by major cable MSOs.

And there's one important caveat in the company's argument: "Panasonic requested the Media Bureau to confirm our belief that integration of analog tuning in the SBB is not required by the FCC rules, so long as the SBB is designed to be used only in combination (our emphasis) with a television that supports analog tuning."

As Panasonic sees it, consumers could, if necessary, simply access cable analog programming by switching the TV's input from HDMI to the RF interface.

The Panasonic retail SBB will follow in the wake of two tru2way-certified HDTV sets (a 42-inch and a 50-inch model) that it's been selling in Chicago, Denver, and Atlanta in tandem with Comcast Corp. (Nasdaq: CMCSA, CMCSK). Panasonic also noted that it will start selling those TVs in Boston "soon." (See Denver, Chicago First to Get Tru2way TVs and Tru2Way in Atlanta.)

While the controlled deployments of those integrated tru2way sets have received "very high satisfaction" feedback ratings, Panasonic hopes the newer SBB will offer more flexibility, allowing consumers to pair the box with a greater variety of screen sizes. In turn, the strategy will "accommodate slimmer chassis designs."

While it appears Panasonic is making some progress with a tru2way set-back strategy, it's not the first to give it a shot. Advanced Digital Broadcast (ADB) has already obtained CableLabs certification for its version, and Sony Corp. (NYSE: SNE) has shown some interest in selling that device alongside some of its Bravia TV models. (See ADB Develops Tru2way 'Set-Back', Sony-Comcast Store Has Tru2way 'Set-Back' Box , and Sony Drives ADB's Set-Back.)

— Jeff Baumgartner, Site Editor, Cable Digital News