June 6 is not only the 65th anniversary of D-Day; it is also going to be P-Day, the day the Palm Inc. Pre makes its debut at wireless service provider Sprint Corp. (NYSE: S). Fans have been waiting for this moment with bated breath since its limited introduction at the Consumer Electronics Show in January.

Will we have devotees camping out at Sprint locations in advance? Who knows, but I think there are a couple of things that you can count on and those are stock-outs and shortages. The pundits will coo about the strong demand, but I think the reality is something quite different: the lack of cash. Palm is woefully short on cash, and that may make for a limited build of the Pre as it marches toward launch.

Since Elevation Partners established its position in Palm about six quarters ago, the company has seen its cash position dwindle from $627 million to $219 million as of its February quarter. Part of this is the result of a $9 per share special dividend to assuage shareholders, but the company has also managed to burn about $145 million on operations as well. Over this same period its debt expanded from zero to $395 million. I'm not suggesting that the deal with Elevation Partners was a bad idea from a strategic perspective, only that the development and launch of a new product such as the Pre is a very expensive proposition for any company, let alone one in a precarious financial position.

Realistically, if the IHS iSuppli "guesstimate" of the Pre cost of goods sold (i.e. $170) is even close to being correct, just how many units could be manufactured before they run out of cash? Not even 1 million, and that assumes there was no further deterioration in the company's financial position in its current (May) quarter. I'll come back to this in a minute, but let's look at some of the things that happen from a financial perspective when you launch a new product.

Both Apple Inc. (Nasdaq: AAPL) and BlackBerry had major new product launches last year with the iPhone 3G and the Blackberry Storm, respectively. While neither is the perfect analog, we can get a sense of the impact of these launches from their financial data in the table below. Granted, Apple's data is certainly less revealing given its Macintosh operations, but it's still instructive. The data shown are the sequential change for Apple in the June quarter of 2008 and for RIM in the November quarter of 2008.

As you would expect, inventory should go up as the companies ramp production to fill the channel. Since production is not a free service, the contract manufacturers need to be paid, so accounts payable decreases and that draws down cash balances. Lastly, cash from operations usually takes a hit as well because of the investment in the new product without the offsetting sales and collections. For RIM, cash from operations declined sequentially about $26 million. While the corresponding figure at Apple actually increased $128 million, keep in mind that in the same period a year earlier the sequential gain was nearly $500 million. Consequently, I think it's fair to say that there was a definite impact at Apple as well.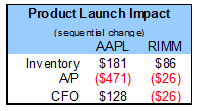 Next Page:
By the Numbers