DENVER -- Cable Next Gen-Technologies & Strategies -- While the initial three months of Shaw's BlueSky TV deployment last January may have been rocky, Carol Santerre says the Canadian cable company turned that ship around by launching a new back office, new team and new business processes simultaneously.
As director of advanced technology operations at Shaw Communciations, Santerre was charged with setting BlueSky TV's launch on the right course after its bumpy start. It was, to say the least, a daunting task.
"The first three months of that felt like the Japanese game show Wipe Out," says Santerre in a fireside chat here last week with Light Reading's Alan Breznick. "You know the game show where the crazy people are going across this obstacle course and are getting smacked in the face by a big foam roller?"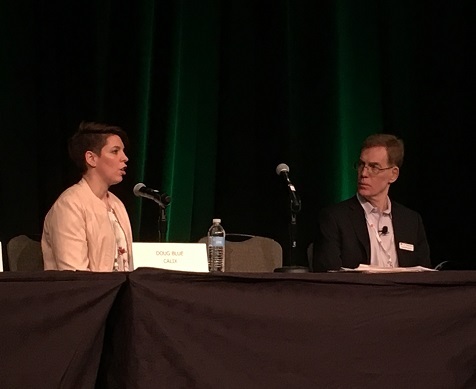 BlueSky TV is based on Comcast Corp. (Nasdaq: CMCSA, CMCSK)'s X1 platform, featuring a voice remote, sports app, DVR, parental controls and more. It was launched a year after Shaw Communications Inc. introduced a new mobile video app -- FreeRange TV -- that was also based on and licensed from Comcast X1's platform.
The Shaw team decided to launch a brand-new back office to support its new BlueSky TV product because of concerns over what the operator's existing back office "could and could not do" and to optimize the entire deployment process, says Santerre. Launching a new back-office platform while still maintaining the original back office, and launching a new TV service in addition to an existing one proved to be quite challenging, she adds.
"Essentially we had to change every business process we had -- from order entry, through billing and invoicing, to how we were going to install it in the home, and how we were going to support it," she notes.
While partners Cisco Systems Inc. (Nasdaq: CSCO) and Comcast could offer some product launch support, managing the back office sits squarely on Shaw's shoulders, says Santerre. In addition to the back office challenge, delivering the cloud-based TV service to new and existing customers meant identifying processes for migrating customers over to a new billing service without interrupting their existing service, and manually migrating customer information like email addresses, account information and balances, and home entry information.
"Everything made sense on paper. It did not work when we actually got to the field," says Santerre. "Some parts worked, but the parts that didn't work were the things we overlooked. The parts where we said, 'People are just going to get this, right? They know how to put in an order. The tech, he knows when to call in, he'll figure it out.'"
To address these new challenges, Santerre hand-selected a team from a range of backgrounds in CMTS, order entry, tech and customer support and brought them together to work with the company's billing and communications teams.
Next page: New approach to ticketing systems