Terabyte Households Surge as Video Eats the Internet

Comment (3)
Cisco Systems released its annual Visual Networking Index (VNI) today, and the five-year forecast shows that, yes, video is devouring more and more of the Internet.
Cisco Systems Inc. (Nasdaq: CSCO) said that 75% of global Internet traffic was video in 2017, up from 63% in 2015. Cisco expects this number to climb to 82% in 2022. (See Cisco: Global Internet Traffic to Hit 4.8 Zettabytes Per Year by 2022 and Cisco: Get Ready for the Multi-Zettabyte Internet.)
Those numbers aren't all that surprising given the popularity of OTT-delivered subscription services such as Netflix alongside a small-but-growing cord-cutting trend that has given rise to a cadre of virtual MVPDs that have managed to snap up some 6.5 million subscribers between them. (See OTT-TV Gains Slow to a Crawl in Q3, but Cord-Cutting Does Not – Analyst and Netflix Tops 130M Paid Subscribers Worldwide.)
But what caught my eye in Cisco's VNI presentation was a slide spotlighting the rapid rise of Internet households that now gobble up 1 Terabyte or more of data per month. That number has more than doubled from 2016 to 2017.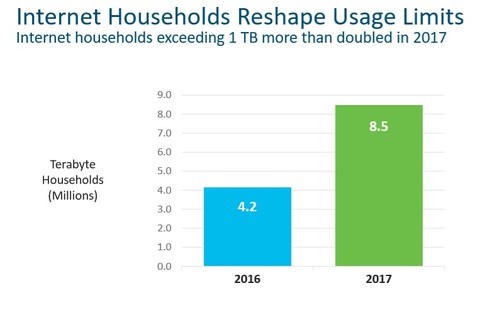 That's a key data point to keep an eye on, as 1 Terabyte is the monthly soft data cap that several ISPs, including Comcast Corp. (Nasdaq: CMCSA, CMCSK) and Cox Communications Inc. , have set before they begin to charge for extra buckets of data.
Comcast went national with its 1-TB data policy (it also offers a $50 per month unlimited data option) in the fall of 2016 after introducing it in several markets earlier that spring. At the time, Comcast stressed that about 99% of its customers don't use more than 1 Terabyte in a given month, with a median usage of 75 Megabytes. Comcast's FAQ still notes that more than 99% of its residential broadband customers don't use 1 Terabyte or more. (See Comcast Takes a (Tera)Byte Out of Caps.)
But given Cisco's latest Internet consumption findings, it would seem to follow more consumers will exceed that limit. And if Comcast and others want to provide monthly data plans at a high enough level so as not cause a sizable backlash from consumers that have blown through those thresholds, it would also seem plausible that they'll likewise have to consider raising those ceilings. Or perhaps they'll look for opportunities to exempt some OTT video traffic from their data usage policies. (See Cable Ops Preparing to Exempt Some OTT Services From Data Caps .)
Not every MSO is unified on a 1-TB data plan. Some, like Charter Communications Inc. and WideOpenWest Holdings LLC (WOW) are cap-free. Other ISPs have already set much higher data limits.
Of that latter group, Cable One Inc. , for example, sets a 900 Gigabyte data plan on its 200 Mbit/s Internet tier, and 1.5 TB for GigaOne, a DOCSIS 3.0-based offering that delivers up to 1 Gbit/s downstream and up to 50 Mbit/s in the upstream. Mediacom Communications Corp. 's data policy is even more generous -- a monthly usage allowance of about 6TB for its 1-Gig service, roughly 4TB for a tier that tops out at 500 Mbit/s downstream and 1TB for its 100 Mbit/s service tier.
Though the rise in Terabyte homes might cause some ISPs to adjust their monthly data plans, Cisco's latest study also showed that Internet data usage in cord-cutting households is about 72% higher than the average household -- 141 Gigabytes per month versus 82 GB.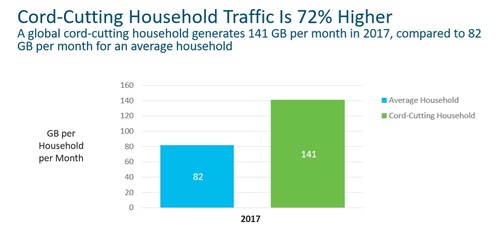 It's expected that that cord-cutting homes are getting their video fix from the Internet more often than traditional pay-TV homes, whether that fix is coming from an SVoD service like Netflix or an OTT-TV service such as Sling TV, DirecTV Now or YouTube TV.
Concerning OTT consumption and data caps, another trend to keep tabs on is the emergence of a higher bit-rate 4K video that can cut into data caps more rapidly than HD does. Netflix, for example, suggests a "steady" Internet connection speed of 25 Mbit/s or more for its 4K content, compared to just 5 Mbit/s for HD-quality streaming.
Cisco is forecasting that 4K/Ultra HD video will account for about 22% of global IP video traffic by 2022, compared to a mere 3% in 2017. Cisco also predicts that 62% of flat-panel TVs will be 4K-capable by 2020, a CAGR of 38% over the study's five-year outlook.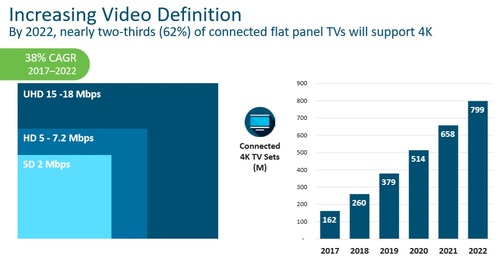 As the device, network and content ecosystem come together, "there continues to be a changing mix of the types of video" that's delivered over the Internet, Thomas Barnett, director, service provider marketing at Cisco. Barnett noted that heavier investments in broadband networks are also enabling more bandwidth-intensive applications and services like 4K video as well as virtual reality and augmented reality.
— Jeff Baumgartner, Senior Editor, Light Reading