Amdocs is making a play for the video management and distribution space with the announcement today of a plan to acquire Los Angeles-based Vubiquity in a $224 million all-cash deal. The transaction is expected to close before the end of the second quarter. (See Amdocs to Acquire Vubiquity.)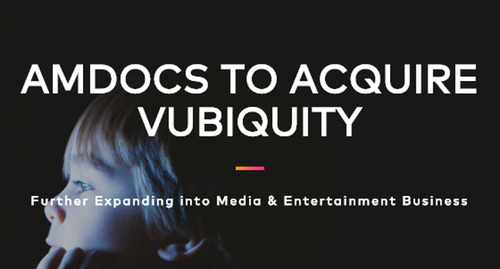 Vubiquity Inc. , once known as Avail-TVN, brings with it a wide array of video services, including content licensing, user authentication, metadata management, video encoding and distribution, media analytics and more. The company partners with more than 600 content owners globally and delivers video to more than 100 million consumers across 121 countries in 80 languages.
For Amdocs Ltd. (NYSE: DOX), the move suggests a growing ambition to extend beyond its roots in operations and billing management. While the OSS/BSS giant already counts more than 350 communications providers in its customer roster, the acquisition of Vubiquity will give it a broader suite of services to sell and a way to deepen its relationships in the industry with new video expertise.
"With Vubiquity, we'll now be well-positioned to bring a rich content catalog of licensed content libraries and distribution to these customers all in a one-stop shop," says Anthony Goonetilleke, president of Amdocs Technology, in a public video address.
Notably, the deal highlights the importance of video in the communications sector, where network operators are increasingly relying on streaming services to attract and retain subscribers.
Amdocs says it will use the Vubiquity buy to create a new Amdocs Media Division. Vubiquity CEO Darcy Antonellis will head up the new unit.
— Mari Silbey, Senior Editor, Cable/Video, Light Reading