In preparation for the final phase of my professional career, I used the prolonged holiday break to go through a massive quantity of previous work -- now stored in attic boxes -- to determine what, if anything, needed to be preserved. The stash included six years of newspaper clippings, six more years of newsletters and 24 years at daily magazines, so a fair quantity of once-useful paper had been sacrificed to deliver my journalistic ramblings.
That last lot represents most of the 30-plus years I've been covering the telecom space. Given the volume, I was hardly able to read or even thumb through each magazine, but just skimming the headlines provided some unexpected insights. As expected, there was the rise and fall of technologies such as Sonet and ATM, but I was a bit surprised at how often the notion of distributing intelligence to the edge of the network was considered, dating back to the early 90s.
Consider these trends, all from 1998:
Michael Armstrong kicked off his tenure as AT&T Inc. (NYSE: T)'s chairman by saying he would rid the company of red tape, slow decision-making and bureaucracy, changing the culture to make the company more competitive with nimbler players.
The cable industry was in hot pursuit of business customers. Cox Communications Inc. and MediaOne Inc. said it was critical to compete for the digital office as well as the digital home.
New competitive service providers were putting pressure on legacy T1 services -- they were legacy even then, but they're still around almost 20 years later.
ISPs were waging war against "smurfing" -- an early name for denial-of-service attacks.
Consolidation was the name of the game, as big service providers such as Bell Atlantic and GTE came together.
Tech startups were redefining how to deliver carrier-class voice and data services over IP networks. In this case, they were creating softswitches. But a lot of the goals -- enabling transitions away from legacy networks, faster service creation, more efficient use of bandwidth -- resonate today.
Telemedicine was much in demand, but being hampered by insurance rules and government compliance standards. Okay, I cheated on that one, it's actually from 1995.
The other thing I noted was how often a single company creating an innovation ultimately went nowhere -- two examples are EtherLoop from Nortel Networks and SuperLine from Paradyne and AG Communications -- while technologies around which industry players and groups could coalesce went much farther.
To be sure, there were many juicy bits to my review -- seeing how long folks like Bernie Ebbers and Joseph Nacchio were taken seriously, if not revered, is hard to swallow in retrospect. And I think the entire industry was blindsided by the impact of the iPhone -- I don't know that anyone truly saw that one coming.
But the overall feeling this publication purge produced was that we are, in fact, repeating the past on a regular basis, moving the ball forward in the process -- we hope -- but perhaps not learning as much as we could from previous efforts. In that spirit, I plan to give this special supplement to Telephony magazine, dated March 28, 1994, a closer look: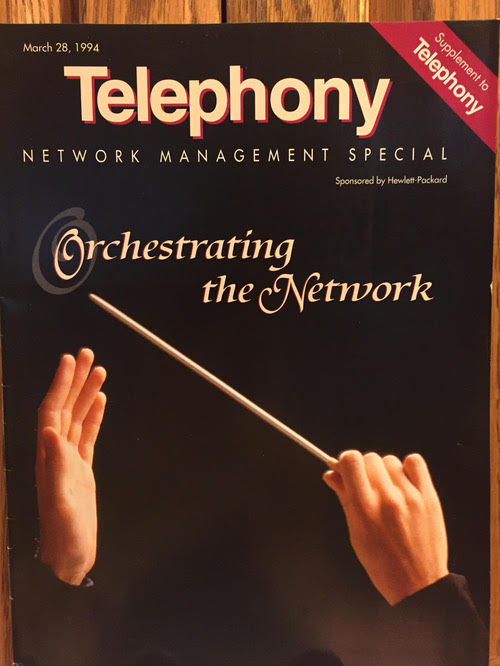 — Carol Wilson, Editor-at-Large, Light Reading