Current procurement processes in the telco IT sector are largely broken, cost the telco sector north of US$1 billion a year and are hampering innovation and business developments, a new report from industry body TM Forum has concluded.
The report, Time to kill the RFP? Reinventing IT procurement for the 2020s, finds there is widespread dissatisfaction with current purchasing models and suggests ways in which new processes and models could be introduced and, potentially, dramatically reduce the lifecycle of the telco IT (BSS and OSS) procurement process.
The report is the result of briefings with 35 companies -- including major communications service providers (CSPs) -- and a survey of more than 300 CSPs and vendors. The research project, conducted during a period of more than six months, was led by TM Forum's chief analyst Mark Newman.
It found that while the traditional, drawn-out request for proposal (RFP) model -- which often includes an initial request for information (RFI) and sometimes an additional request for quote (RFQ) stage -- is still largely relevant for the procurement of network equipment (still mainly standards-based hardware sourced from a core group of suppliers), it is no longer suitable for the procurement of telecoms IT systems and associated services, on which CSPs spend billions each year: The BSS/OSS procurement market is worth anywhere between $20 billion and $40 billion per year, according to Newman.
That traditional RFP model, which can involve scores of "stakeholders" and take anything from 12 to 18 months to complete, is no longer fit for purpose in the telco IT world because, the report notes, "in a fast-paced technology environment, where cloud and software are fast becoming preferred options, it is difficult for CSPs to describe in lengthy, written documents what they want and need. The processes are simply too complex and cumbersome to support modern, Agile methods of working."
It also often results in cost overruns, delivers poor results, creates distrust between CSPs and their IT system and software suppliers, and hampers engagement with small, innovative startups that don't have the resources to engage in the traditional processes, the report notes.
"One of the major challenges is that at the end of a process, the operator isn't totally sure what they have bought, find they are missing something and have to incur a 'change request' that can lead to massive extra costs," Newman tells Light Reading.
As a result of these challenges, Newman and his team estimate that inefficiencies in the telco IT procurement process are costing the industry "well in excess of $1 billion per year." (To find out how Newman and his team arrived at that figure, see pages 15 and 16 of the report.)
It's not just the CSPs that believe the current process is broken -- the majority of vendors believe that too, as the chart below shows.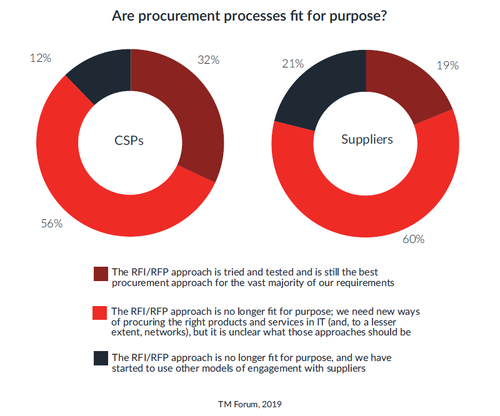 What can be done?
Based on responses gleaned from the research process, the TM Forum team has concluded that CSPs want to control their own technology roadmaps, have the option of deploying open source software, deploy modular rather than monolithic systems, and be able to expose their IT platforms and applications to customers (particularly enterprises).
Achieving those goals requires alternative procurement processes that, according to Newman and his team, could:
Include proof of concepts (PoCs)
Embrace "agile" methodology (a process of continuous iteration) by breaking down the process into smaller components, as opposed to the current "waterfall" methodology
Modernize current procurement processes through digitization and decentralization
The suggested use of PoCs, which are prevalent but rarely lead to commercial engagements, will likely be a talking point at this week's Digital Transformation World event in Nice (the TM Forum's major annual gathering). As the chart below shows, CSPs see more value in such tests than vendors.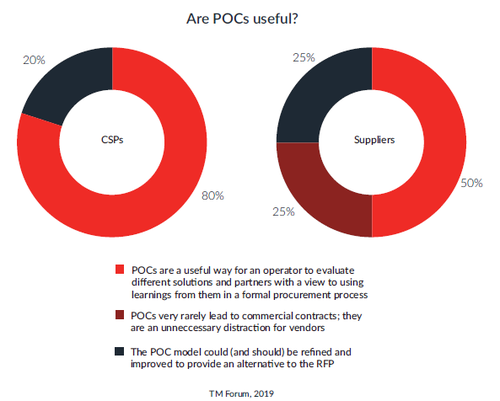 PoCs have "been around for a long time, but vendors often roll their eyes at them because they tend to go nowhere," says Newman. "They tend to be pet projects that don't lead to commercial relationships. But we think a PoC can be embedded as part of a [new] procurement process. We've come up with a new model -- a request for partner."
The new RFP – Request for Partner
There are five main steps in this new process, as shown below.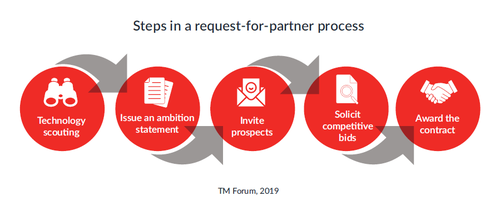 Newman and his team describe these processes thus:
Technology scouting: Technology teams must be proactive and dynamic in their approach to identifying potential technologies, architectures and suppliers.
Issue an ambition statement: This should be a short document (five pages or so) bearing no resemblance to the typical RFP today. "Rather than producing a document running to several hundred pages, you produce a short document with business outcomes and then invite a number of vendors to run PoCs to address those challenges," says Newman.
Invite prospects: Invite three to five potential suppliers who will engage with the relevant technology teams in a proof of concept.
Solicit competitive bids: This is the most challenging aspect of the agile procurement model proposal. It will likely involve the business and technology approach used by the preferred bidder.
Award the contract: Use the principles of minimum viable product (MVP) and minimum testable value (MTV) in contracts, which do not set commercial terms until "scrum" teams are put together and "sprints" are planned.
But would this model work in the real world? It would require a great deal of upheaval and adoption of new processes and practices and that, as we have seen during the past six years as CSPs and vendors have attempted to embrace virtualization and its associated disruption, is not easy for the telecom community.
In addition, the "Request for Partner" process has had very little exposure to the industry -- Newman and his team are now ready to receive feedback.
But the report and the proposal of a new process are important steps -- if nothing else, what Newman et al have done may at least highlight to upper levels of CSP management the challenges faced by the procurement and technology teams in adapting to a new, cloud-oriented world and lead to at least a recognition that changes should be made.
There are many legacy processes that aren't fit for purpose in the 5G, telco cloud era and the procurement process is just one of them: Any report or industry noise that can be a catalyst for progressive change is worth highlighting.
The report can be downloaded free at this link.
— Ray Le Maistre, Editor-in-Chief, Light Reading