I must confess my expectations were low as I sat down to listen to the TMForum webinar Global Architecture Forum - Airtel Sri Lanka Transformation.
But as Airtel's Nathan Phipps, head of architecture, and Gaurav Darbari, digital enterprise architect, started to tell their story, I realized this was not your run-of-the-mill webinar. Phipps and Darbari described, in some detail, how they replaced an expensive ten-year-old BSS with a converged pre/postpaid stack in fewer than six months, cutting IT opex by 80% in the process. They reduced the number of systems by 60%, insourced functions from the IT service provider and built their own business intelligence solution from scratch using open source components.
This was not your run-of-the-mill IT transformation. I spoke with Phipps to better understand the context, IT requirements and eventual solution that he and his team developed.
The context
The Airtel group is the third-largest mobile operator in the world as measured by customer count (420 million), behind only China Mobile and Vodafone Group. It is a top three mobile operator in India (320 million customers) and is also present in 17 other countries, including Sri Lanka. The Sri Lankan business had complex IT systems (more than 60 different applications) that were ten years old, expensive to run and highly customized, hence expensive to change. In fact, as many of the original developers had since moved on, and there was no centralized code repository, it was almost impossible to make any changes at all. The IT stack was essentially a carbon copy of what Airtel had deployed in India, which for a three-million customer business was overkill.
According to Phipps, Airtel Sri Lanka had limited digital capabilities. Given Airtel's limited local resources they were reliant on outsourcing for IT support, which added to the businesses costs. The hardware was reaching end of life, suffering frequent failures and there was no disaster recovery contingency. Moving the existing IT stack onto new hardware would have been prohibitively expensive. The expensive IT support contract was coming up for renewal with a significant price hike. Phipps notes: "Last year around the same time we were really in a sticky situation, sitting on a real time bomb from an IT perspective."
The requirements
Once Indian management became aware of the mounting problems in Sri Lanka, Phipps and Darbari were parachuted in to fix things. They started by interviewing stakeholders to compile a list of IT imperatives. For IT operations, the priority was dealing with hardware that was reaching end of life, and software that was no longer supported due to maintenance license expiry. For service managers this was cumbersome reporting, manual KPI calculation, and manual ticket assignment. The billing department struggled with inaccurate invoicing. Order entry was highly manual and error prone. In general, the business suffered from high IT costs and low customer satisfaction.
A common complaint from stakeholders was the long turnaround time for any IT change requests, a familiar gripe in most telcos. Undertaking impact assessments and then delivering changes was highly complex. The cost to deliver was also too high. Staff had resorted to working around the ossified BSS using Office applications.
The guiding principles behind Airtel Sri Lanka's new IT architecture were:
Breaking monolithic software applications into small components.
Making software components accessible through APIs (leveraging TMForum Open APIs and the SID standard).
Chaining of OSS and BSS components to support digital services.
A converged/common stack for pre- and post-paid customers, enabling a common information model.
The solution
After a full market evaluation, Airtel decided to use a small number of suppliers for its Sri Lankan BSS needs, opting for a best of suite approach.
A key part of the new architecture is Comviva's iPACS solution. This replaced a multitude of legacy systems including Oracle for postpaid CRM and an old version of Comviva (a Tech Mahindra company) PACS for prepaid. iPACS replaced Amdocs's Kenan FX in postpaid billing, and CSG's Intec for interconnect billing. iPACS also handles customer care, order management and inventory management.
For CDR mediation, provisioning and activation, Airtel selected Nokia (Comptel), a swap out of Aricent (now part of Capgemini). For Local Area Payment Unit (mobile account recharge/top-up), Airtel selected Amdocs's eRecharge platform, which replaced a variety of legacy, custom applications.
Airtel India already used Comviva iPACS, Nokia (Comptel mediation) and Amdocs (eRecharge), hence these were solutions with which the parent IT organization was already familiar.
Airtel also used Wipro to develop around five bespoke applications for Sri Lanka to cover aspects, such as business performance tracking and regulation (including lawful intercept).
For business intelligence -- for example, CDR analysis, financial metrics, business trends -- Airtel developed a lightweight platform, called JIFFY, based on open source components (Cassandra, Kafka, Presto, Spark, Yarn, Zeppelin). JIFFY can handle real-time events and data profiling. Airtel's Indian BI is a big data platform running on Hadoop and is oversized for the Sri Lankan operation's needs: The input data and many business requirements were completely different. Consequently, it was easier to build a separate BI than try to apply the complex Indian BI system in Sri Lanka. However, Airtel does hope to reuse JIFFY in some of its other businesses outside India.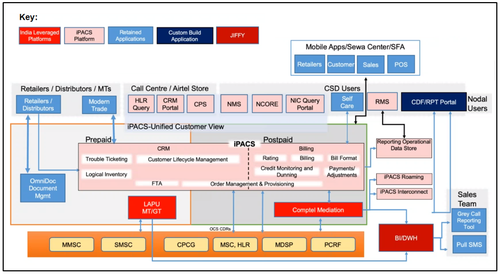 The bottom line
With the new stack, Airtel Sri Lanka had successfully sunsetted 35 legacy applications, reduced its BSS hardware requirements by 70% (going from 77 physical servers to 23) and cut its overall IT operating expenditure by 80%. And it achieved all of this in just six months.
Clearly, the Sri Lankan business would have struggled to manage this change without the support of its Indian parent organization. And equally it would be much harder to realize such a significant change in the much larger Indian business in such a short time frame. Nevertheless, the Airtel Sri Lanka example provides an interesting case study from which operators both large and small can draw useful lessons.
— James Crawshaw, Senior Analyst, Heavy Reading