Stimulus projects poised to offset risk of new broadband regulations – analyst
While the general consensus is that 2021 broadband subscriber growth will slow to 2019-like levels and avoid a repeat of the explosive growth seen in a pandemic-marked 2020, a top industry analyst believes that a string of federal stimulus projects could provide a surprising boost to the US broadband industry.
"New stimulus measures are aimed for the first time not just at rural broadband expansion but also at urban broadband affordability," MoffettNathanson analyst Craig Moffett noted in his latest report on the US broadband industry.
The new measures, he points out, target consumers who were unable to continue service after the FCC's Keep Americans Connected Pledge expired. "The stimulus package will likely also boost household formation. And, like everything about the new stimulus package… the numbers are BIG," he wrote.
Among those big numbers is the $1.9 trillion affixed to the federal COVID-19 relief act. "We have rarely heard it mentioned as a potential driver of broadband growth. It should be," Moffett explained.
Another potential driver, he adds, is the Emergency Broadband Benefit Program (EBBP), a $3.2 billion temporary program designed to address the connectivity needs of low-income households during the pandemic. "This program alone would be enough to significantly shift expectations for 2021," Moffett wrote.
Other initiatives he views as helping to push the broadband needle include the Emergency Connectivity Fund/E-Rate Program and the American Rescue Plan Act, which will provide billions for state and local governments to invest in capital projects tied to remote work, education, and health monitoring in response to the pandemic. "To be clear, not all of this will be for broadband. But some of it will be," Moffett said.
To provide a sense of the magnitude of these proposals, Moffett notes that the first phase of the Rural Digital Opportunities Fund (RDOF) awarded about $9.2 billion, including about $1.2 billion in government support to Charter Communications.
MSO involvement in future broadband-related government programs can't be discounted. "Cable is not usually viewed as a meaningful beneficiary of federal handouts. This time, it should be," Moffett explained.
He also believes that these stimulus programs should "overwhelm the consensus risk of regulation" under the new Biden administration.
"Up to now, almost all of the focus on the new administration has been on regulatory risk, and, in particular, on the prospects for Title II reclassification and whether that reclassification could lead to price regulation," Moffett explained. "Not enough attention has been paid to the upside potential from stimulus spending."
Still, pressure is already mounting for the FCC to reinstate network neutrality rules – Mozilla and Reddit are part of a group urging the Commission to take up the effort, though Multichannel News reports that the situation will likely stay in neutral until there's a Democratic majority on the FCC.
Moffett acknowledges that it's difficult to determine exactly how a wave of new stimulus projects will impact individual broadband service providers. But he still believes that original forecasts for 2021, particularly in the second half of the year, need to come up.
Per Moffett's revised forecast, he expects Comcast to pull in 1.40 million broadband subs in 2021, up from a prior estimate of +1.17 million. For Charter, he now expects the operator to add 1.3 million in 2021, up from prior expectations of +1.10 million, and Altice USA to add 123,000 versus a previous forecast of +91,000. For Cable One, an operator more focused on rural parts of the US, Moffett now expects the MSO to add 94,000 broadband subs in 2021, down from a prior estimate of +108,000.
US cable broadband gains shift to 'mid-tier' FTTN competition
That's a look ahead. Here's a look back at the quarter that was.
The rate of US cable broadband customer gains flattened in Q4 2020, but recent gains are increasingly coming from the likes of AT&T U-verse rather than from low-tier services like legacy DSL.
US cable's rapid rate of broadband subscriber growth tapered off a bit in Q4 2020, but the target of those gains appear to be shifting. Rather than snaring customers on lower-end legacy DSL services, cable's share gains appear to be coming increasingly from "mid-tier" fiber-to-the-node (FTTN) competition such as AT&T's U-Verse, Moffett's report surmised.
A big part of that trend is attributable to a rapidly eroding base of legacy DSL competition. AT&T lost another 33,000 DSL subs in Q4 2020, ending the quarter with a mere 407,000 subs. When Verizon's 6.2 million Fios customers are removed from the equation, the telco has just 445,000 customers in a "broadband" category that includes DSL subs.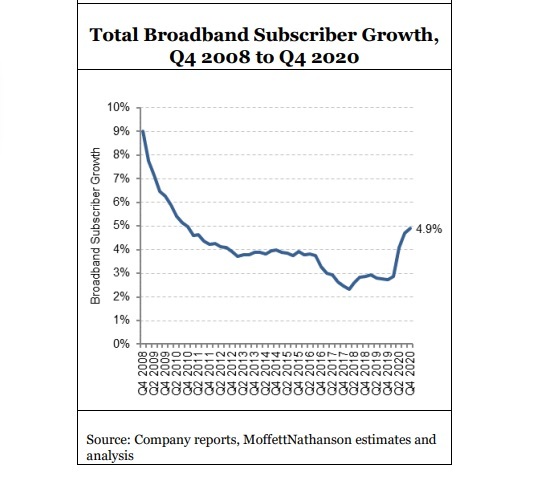 That competitive picture appears to be driving AT&T further toward fiber-to-the-premises as well as fixed wireless. AT&T announced at its recent investor day that it intends to deploy FTTP to another 3 million-plus residential and business locations across more than 90 metro areas this year, and is already making plans to deploy it to an additional 4 million locations in 2022. AT&T Communications CEO Jeff McElfresh also hinted that the company might use C-band and other midband spectrum to hit parts of its footprint with fixed wireless services that capture customers on older DSL connections.
Meanwhile, Moffett warned that cable's share gains snared from the mid-tier broadband market might be fleeting. "Even these mid-tier services are now beginning to be depleted," he explained. "As of the end of 2019, these mid-tier services and legacy DSL (collectively categorized as 'DSL' by the FCC) were still larger than the TelCos' collective FTTH subscriber base… but only slightly so. These two pools are now reasonably close to being of equal size. It is appropriate to expect that the TelCos' rate of share losses should continue to moderate."
Fueled by strong numbers at Comcast, US cable operators added 964,000 broadband subs in Q4 2020, versus a gain of 961,000 in the year-ago period, and off from a gain of 1.38 million in Q3 2020. US telcos lost about 266,000 in Q4 2020, roughly the same as the year-ago period, while satellite broadband lost about 35,000 subs.
Rolled up, the total US broadband industry saw subscribers rise 4.9% in the period, to 114.71 million.
Related posts:

— Jeff Baumgartner, Senior Editor, Light Reading
PARTNER PERSPECTIVES
- content from our sponsors