Optical roundup: Transport gear market to hit $17B by 2027 – Dell'Oro
In this roundup: Dell'Oro Group forecasts that the optical transport equipment market will grow at a 3% CAGR over the next five years; Ciena's Blue Planet appoints a new general manager; and Lumen Technologies expands its 400G Wavelength Services network.
Optical transport equipment market to reach $17B in 2027
The optical transport equipment market is expected to grow at a 3% compounded annual growth rate (CAGR) to hit $17 billion by 2027, according to researchers at Dell'Oro Group. Over the next five years, the cumulative revenue is forecast to total $81 billion.
According to Dell'Oro VP Jimmy Yu, annual growth rates are expected to fluctuate in the near term but will eventually settle to an average 3% growth rate. Market uncertainty is accelerating this year, and economists say there's a high chance for recessions in North America and Europe, he added.
"However, at the same time, most optical systems equipment manufacturers are reporting record levels of order backlog entering the year, and we expect that most of this backlog could convert to revenue when component supply improves this year," Yu said in a statement.
Dell'Oro also anticipates that the dense wavelength-division multiplexing (DWDM) long-haul market will grow at a CAGR of 5% over the next five years. Coherent wavelength shipments on WDM systems are predicted to grow at 11% CAGR over that time period to hit 1.2 million annual shipments by 2027.
Ciena appoints new GM to Blue Planet division
Networking services company Ciena has appointed Joe Cumello, the company's former CMO, as senior vice president and general manager of Blue Planet. He takes on the new position as of Jan. 30.
As a division of Ciena, Blue Planet provides back office and automation software to more than 200 customers including over 30 tier 1 service providers as well as enterprises and data center operators.
Cumello has held several other VP positions at Ciena and also has a background at Internet Photonics, Sidera Networks, SafeNet and Cyan. In his new role, he will continue reporting to Ciena President and CEO Gary Smith.
Rebecca Smith will take over Cumello's previous role of SVP of global marketing & communications. Prior to working at Ciena, Smith held sales and marketing roles within Amdocs.
Lumen expands 400G network
Service provider Lumen Technologies is expanding its 400G wavelength network across North America. Lumen said it has now deployed the network in 70 markets. More than 240 data centers have access to Lumen's 400G Wavelength Services, and the network has over 800 Tbit/s of capacity.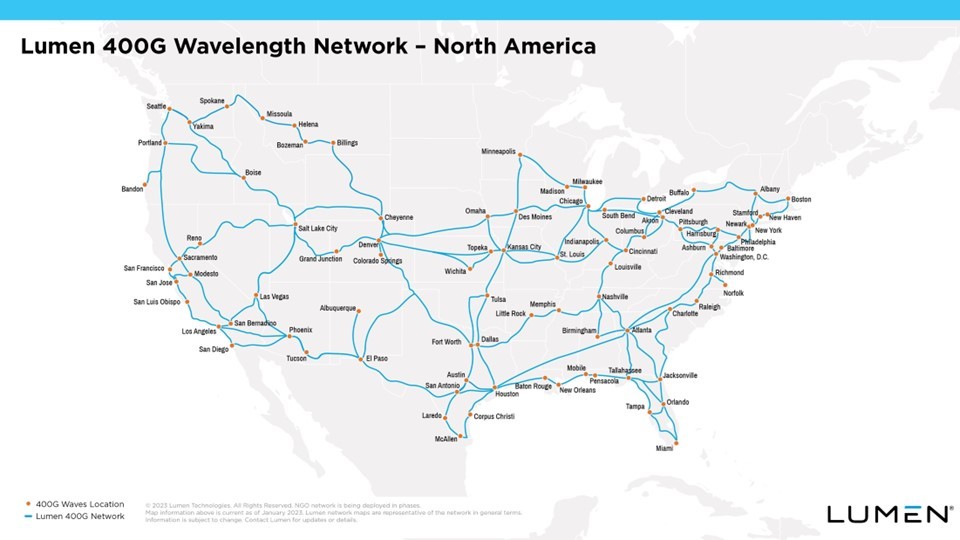 Lumen said it plans to continue its intercity 400G expansion this year, pushing the network "deeper into the metro edge." The company noted that wavelength services will assist customers in moving workloads to the cloud, and provide private, dedicated connections.
Enterprise customers can also examine network options, plan out their wavelengths and get cost estimates with Lumen's Topology Viewer.
Related posts:
— Kelsey Kusterer Ziser, Senior Editor, Light Reading
EDUCATIONAL RESOURCES



PARTNER PERSPECTIVES
- content from our sponsors