Poll: Metro Apps Top of Mind for Optical
If you scan the headlines of Light Reading's recent optical transport coverage, the transition to metro 100G is getting a lot of attention. It shouldn't come as a surprise then that readers who took our January poll cited data center interconnect and other metro applications as the sector's top priority for 2015.
Just over 33% of 654 poll takers declared data center interconnect and other metro applications as the top priority. Data center interconnect in particular has gotten the most attention of all metro 100G applications. The popularity of this answer also may reflect the relevancy of applications like general metro cloud multi-service aggregation and large enterprise connectivity. (See Optical Priorities 2015.)
Meanwhile, two more of the optical set's high priorities for 2015 will be the ongoing integration of packet and optical, which garnered just over 26% of the votes, and the somewhat related transport SDN movement, which drew more than 20% support.
Though 400G might be the next major transport bandwidth threshold beyond 100G, it's occupying a back burner spot for now. About 15% of poll takers see 400G as a priority this year, which might speak to the ongoing frequency of 400G trials and technology demonstrations.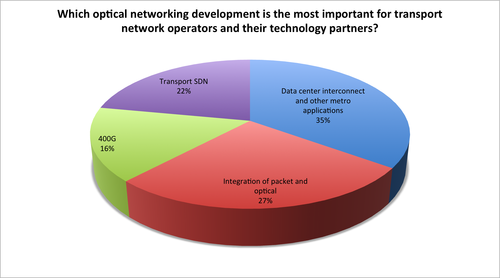 ---
It's optical transport month at Light Reading, and you can find all our recent coverage of that segment in our dedicated optical content channel here on Light Reading.
---
The numbers in the chart exclude those participants who answered "none of the above." Just under 4% of total poll takers chose that answer, but not a single one of those 26 people took us up on our invitation to comment on what exactly their priorities are. What's with that, people? The clock is ticking on 2015 -- time to set your priorities.
— Dan O'Shea, Managing Editor, Light Reading