Sales of optical equipment fell 14.2 percent in 2009, but there's reason to be hopeful about growth in 2010, according to Infonetics Research Inc.

"It was a rough year in North America and EMEA. The thing is, when I talk to a lot of vendors, they're beat up, and they're conservative with their forecasts," says Infonetics analyst Andrew Schmitt. "I think 2010 is going to exceed people's expectations, which are pretty low."

An "up" 2010 wouldn't be so anomalous. Over the long term, the sector tends to grow at 6 to 8 percent per year, Schmitt says. Even if 2010 sales grow by 10 or 15 percent over 2009, the industry will still be way off that long-term mark.

And there are signs that demand is beginning to pick up. Most of 2009 was dismal, but the fourth quarter saw the trend reversing. Optical equipment sales grew in the fourth quarter, by 5 percent compared with the third quarter, in every geographic sector except Asia/Pacific.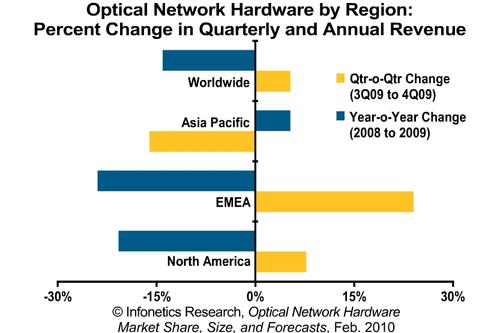 It's worth noting that in the Asia/Pacific region telecom buying kept increasing through the recession, driven in part by heavy spending in China -- the drop in the fourth quarter could be the start of a return to normality.

Asia/Pacific was up by a couple of percentage points in 2009 overall, compared with 2008, while North America was down 21 percent, and Europe, the Middle East, and Africa (EMEA) fell 24.1 percent.

If you're wondering, overall optical equipment sales were up 8.1 percent in 2008, according to Infonetics, boosted by a 22 percent increase in Asia/Pacific.

The only subsector of optical equipment that did well in 2009 was at the optical edge, Schmitt says. That's the domain of vendors including Adtran Inc. (Nasdaq: ADTN), ADVA Optical Networking , and Fujitsu Network Communications Inc.

"It's pretty simple. There's been a lot of activity, at least in 2009, to start doing the fiber for mobile backhaul, and that's a big part of Adtran's business," Schmitt says. Growing interest in wavelength services was a factor, too, he adds.

The top-selling optical vendor in 2009 was Huawei Technologies Co. Ltd. , but Schmitt expects that to change in 2010, as he expects China to slow down on capital spending.

— Craig Matsumoto, West Coast Editor, Light Reading