NEW YORK -- Packet Optical Transport Evolution -- The rise of coherent detection is kicking off a new era of optical networking, the Digital Coherent Era.

Heavy Reading analyst Sterling Perrin used that term in his introductory remarks Wednesday, adding that he tried so hard to not call it the Digital Coherent Era. He wanted to call it the xDM Era, since it follows the TDM Era (the age of Sonet/SDH) and the DWDM Era (today).

The "x" in XDM would have referred to the variety of modulation techniques being deployed at 100 Gbit/s and likely beyond, including polarization multiplexing, phase-shift keying and some forms of amplitude modulation.

The crux of the new optical deployments, though, comes with the coherent receivers being used in 100Gbit/s networks and, probably, in the speed grades to follow.

"We've exhausted what we can do increasing the number of channels per fiber in the C-Band (Conventional Band)," Perrin said. "You can't just endlessly add channels and stay at 10 Gbit/s." Well, you could, but the trade-offs get unpleasant -- more channels could could mean less capacity per channel, for instance. (See A Peek at Packet-Optical Transport Evolution.)

This makes for an interesting progression. In the TDM age, the goal was to increase the capacity of each channel. The DWDM age let carriers add capacity by adding more channels -- which is partly why speeds stalled at 10 Gbit/s for so long. Now, with the Digital Coherent Era, we're back to adding more capacity per channel, starting with 40Gbit/s and 100Gbit/s deployments.

The bad news is that the new era won't rekindle revenue growth.

Heavy Reading expects growth in optical equipment sales to be a steady but unspectacular 4 percent per year through 2015. Growth during this year and 2012 will be a little bit above that mark, partly due to the dip that occurred in 2010.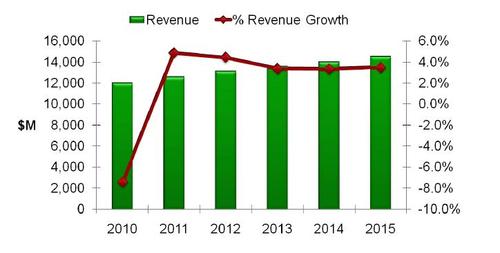 Even so, there will be bright spots. Earlier this week, Infonetics Research Inc. reported that first-quarter optical-equipment spending was up 7 percent compared with the first quarter of 2010. But WDM spending was up 20 percent from a year ago. (See Optical Equipment Growing Slowly.)

— Craig Matsumoto, West Coast Editor, Light Reading