2:30 PM -- LOS ANGELES -- OFC/NFOEC 2012 -- Most people watching the optical components sector agree that there are still too many companies chasing too few customers.

"Round 2 of consolidation in this industry has to look at taking supply off the market," said Natarajan "Subu" Subrahmanyan, an analyst with The Juda Group. He was speaking Monday, part of what's usually the most anticipated panel at each year's OSA Executive Forum -- the one that talks about business conditions.

He sees openings. Oclaro Inc. (Nasdaq: OCLR) could combine with Finisar Corp. (Nasdaq: FNSR) or JDSU (Nasdaq: JDSU; Toronto: JDU), he said, noting that that's purely on-paper speculation on his part.

He's right about the need to reduce supply. But we've been hearing the same thing at this Executive Forum for several years now. If it's so obvious a strategy, why hasn't it happened?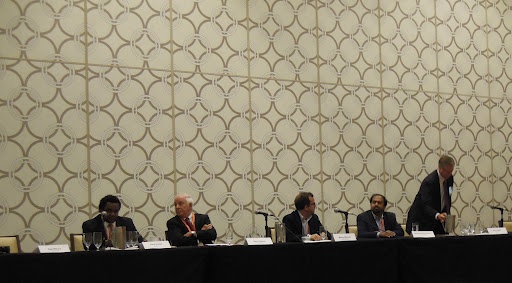 When I asked the panel, I got a moment of awkward silence. Then Jerry Rawls, CEO of Finisar, who's discussed this topic with me repeatedly over the years, offered his take.

"There are a million reasons why these acquisitions or mergers have not occurred, but I can tell you, almost all of them have been attempted," Rawls said. "There's always some obstacle."

In other words, it really is that obvious, but it's hard to get accomplished. That makes a lot of sense.

Often, the obstacle is the price of the deal -- "greed gets in the way," Rawls said.

Market dynamics come into play, too. "One of the reasons I hear pretty regularly is that one plus one is less than two," he said. "If two vendors get together and they get a very high market share, customers will get together and pick a third guy."

So, what happens next? Most people I talk to seem to agree that consolidation in optical components hasn't gone far enough. Avanex and Bookham combined to form Oclaro, and Finisar took out Optium, but there needs to be more.

Maybe this is it. Optical components have reached a state of "meta-stable evolution," as analyst Daryl Innis of Ovum Ltd. put it. He had started this panel showing that the public optical component companies have had a gross-margin ceiling of about 40 percent.

Maybe that's where they stay, and the competitive lineup, which really has stabilized in the past decade, simply doesn't improve. It's not the best of outcomes, but would it be so bad?

— Craig Matsumoto, Managing Editor, Light Reading