5:00 PM -- SAN DIEGO -- OFC/NFOEC -- Consolidation among optical components manufacturers has moved at a snail's pace, sure, but some of the smaller mergers are bearing fruit, based on the demos here at the show.


Finisar Corp. (Nasdaq: FNSR) nabbed Azna a year ago for its chirp-managed, directly modulated laser (CML), an alternative to electro-absorption modulated lasers (EMLs). (See Azna Demos Laser and Optium, Finisar Bulk Up.)

The CML was on display in a tunable DWDM XFP module for 200 kilometer transmission, which is the application Finisar had envisioned for it. But it's also being used in an SFP+ module for sending 10 Gbit/s signals over 40km distances.

"The CML technology has broader uses than just the intended longer-reach telecom transport. We could actually use it in datacom," says Rafik Ward, Finisar senior director of marketing.


Applied Micro Circuits Corp. (Nasdaq: AMCC) is making use of the technology acquired from Quake Technologies. (See AMCC Takes Quake.)

Quake's Ethernet front-end circuitry is one of the many piece-parts assembled into AMCC's Pemaquid chip, which targets 10 Gbit/s Ethernet and, to some extent, the Optical Transport Network (OTN) standard. Other parts include electronic dispersion compensation and forward error correction. (See AMCC Adds 10 GigE PHY.)

Quake is also getting used in AMCC's demo of the IEEE 10 Gbit/s backplane standard, 10GBase-KR. Gilles Garcia, an AMCC director of marketing, was surprised that he'd only seen one other company (so far) displaying 10GBase-KR products, since the standard offers the promise of reusing 1 Gbit/s backplane designs to go straight to 10 Gbit/s. "This could drive the volumes of 10 Gbit/s Ethernet for the next 12 to 18 months," he said.


Apparently I have to pay more attention to our news wires, because I didn't realize Enablence Technologies Inc. (Toronto: ENA) had snapped up Albis Optoelectronics AG and ANDevices Inc. (See, for instance, Albis Targets FTTx.) Due to the timing of booth reservations, Enablence ended up with a triple presence -- its own booth, Albis's, and ANDevices's, all pretty much next to each other.

Didn't get a chance to talk with Enablence this time around, but I'm hoping to get their story down on paper, so to speak, in the next few weeks. What I've learned so far is very interesting.


UPDATE: Here's a shot of the Enablence totem pole, posted around the OFC/NFOEC hallways.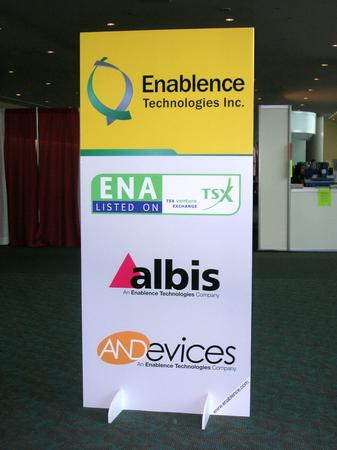 — Craig Matsumoto, West Coast Editor, Light Reading