JDSU, Corning Get Upgrades
The optical components market suddenly woke up this morning, as Wall Street flocked to the sector, upgrading
JDS Uniphase Corp.
(Nasdaq: JDSU; Toronto: JDU) and
Corning Inc.
(NYSE: GLW).
In morning trading, JDSU shares rose $0.12 (7%) to $1.84 and Corning shares climbed $0.65 (3.5%) to $20.22.
Citigroup
(NYSE: C) upgraded JDSU from a Hold to a Buy, and
Merrill Lynch & Co. Inc.
upgraded Corning from Neutral to Buy.
Perhaps the most surprising action was Citigroup's upgrade of JDSU, a stock that has been about as active as a French diplomat in August. After plummeting in early 2005, the shares had been glued to $1.50 for about six months.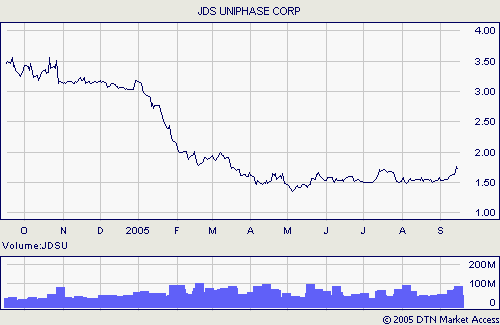 Citigroup cited a stable optical components market, with prospects for steady growth.
"First, we believe a base of visibility is forming in the optical components market, likely supporting predictable 8%-10% growth over the next couple of years in the classic JDSU business segment," wrote Citigroup analyst Michael Genovese in a note to clients.
Genovese also said that JDSU's streamlining of the business may finally be about to pay dividends. The company has been transferring most of its manufacturing to China and has cut unprofitable business lines (see
Trimming Continues at JDSU
,
Spinning & Grinning at OFC/NFOEC
,
2004 Top Ten: Stock Gains & Pains
)
Genovese said he expects JDSU to report breakeven earnings per share (EPS) for the upcoming quarter compared to the consensus view of a penny loss. He raised the price target to $2.50 from $1.65 and upgraded the shares.
JDSU is expected to report results for its September quarter in November.
Meanwhile, over at
Merrill Lynch & Co. Inc.
, Corning was upgraded, though it was on the basis of the company's display business, not its optical business.
Regardless, Corning shares have seen their price double in the last year, and other Wall Street firms, including
CIBC World Markets
, have grown increasingly positive on the stock.
— R. Scott Raynovich, US Editor,
Light Reading
PARTNER PERSPECTIVES
- content from our sponsors