Infineon Technologies AG (NYSE/Frankfurt: IFX) doesn't want much to do with Finisar Corp. (Nasdaq: FNSR).

Infineon has offloaded its 13 percent stake in the optical components and test tools vendor at a lightening quick pace since getting the shares in exchange for selling its fiber optic transceiver business to Finisar in January (see Finisar Buys a Bit of Infineon)

Finisar announced today that VantagePoint Venture Partners is the new owner of the 34 million shares.

The deal casts an even dimmer shadow over the value to Infineon of that all-stock transaction, valued in January at $48 million when Finisar's shares were worth $1.41 each. That was a huge drop from the value of the original deal struck between the two components firms in April 2004 (see Infineon Calls Off $206M Sale).

But Finisar's stock closed Friday at $1.10, one cent off its 12-month low of $1.09. If the stock sale were conducted at the most recent price, Infineon would see just $37.4 million from the transaction.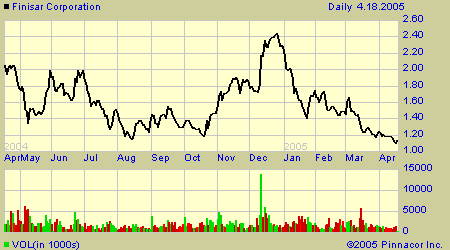 Finisar's share price was stable on the news, as it bounced 4 cents, more than 3 percent, to $1.14 in pre-market trading this morning. Perhaps now that the news is finally out, investors were breathing a sigh of relief that Infineon had found a buyer for its stake.

So did Infineon always plan to sell the Finisar shares so quickly? And was the deal done at $1.10 per share? The German firm will only confirm that it has sold the stock, but says it can't comment any further before its next quarterly results presentation on April 26 (next Tuesday) because it's in its quiet period.

Instead, Infineon's share price did the talking. It dipped 19 euro cents, nearly 3 percent, to €6.81 (US$8.86) on the Frankfurt Stock Exchange in morning trading.

VantagePoint, meanwhile, clearly believes it is buying into a stock with a healthier future. "VantagePoint's investment in Finisar underscores our belief that Finisar is well positioned to thrive and prosper as the fiber optics market continues to consolidate," states the firm's managing director, David Fries, in the Finisar press release.

As a result of the stock deal, Finisar has agreed to "use its reasonable best efforts to elect a nominee of VantagePoint" to the Finisar board.

Other VantagePoint investments include tunable laser firm Santur Corp. and content protection system developer Widevine Technologies Inc. (see Widevine Gets $13M From VCs and Santur Tunes In $10M). It was also an investor in session border controller firm Kagoor Networks, recently acquired by Juniper Networks Inc. (Nasdaq: JNPR) for $67.5 million in cash (see Juniper to Acquire Kagoor).

— Ray Le Maistre, International News Editor, Light Reading