SAN DIEGO -- OFC/NFOEC -- Hey, you know what caused the optical bubble burst circa 2002? Deflation.

Deflation of the dollar, that is. That's how George Gilder began the closing keynote speech at yesterday's OSA Executive Forum. He then went on to urge the optical components industry to think bigger -- beyond the constraints of what Cisco Systems Inc. (Nasdaq: CSCO) or Alcatel-Lucent (NYSE: ALU) wants -- and practically sounded a call to war against Infinera Corp. (Nasdaq: INFN) for desecrating the all-optical dream.

It was a busy half hour.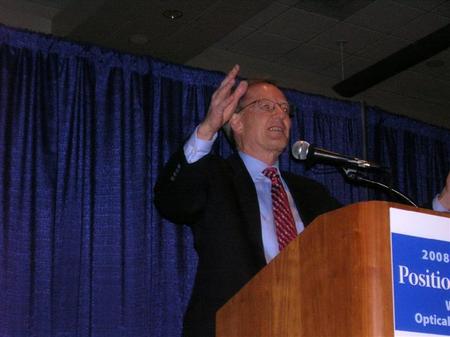 Gilder, moderator of the Gilder Telecosm Forum and chairman of Gilder Cremers Fund LP, is a technology pundit whose blessing has been known to send stocks skyward. Gilder was optical's biggest fan during the dotcom boom, flagging companies like Avanex Corp. (Nasdaq: AVNX) and Corvis for greatness. (See Optical Death Greatly Exaggerated, Avanex (AVNX), Gilder Backs Corvis, and Gilder's Congresscosm.)

Gilder has admitted he made some regrettable calls as the downturn started, but he clearly still believes in an all-optical future.

But let's start with the deflation theory.

"What really caused this crash was a deflation in the 1990s," Gilder said. "The value of the dollar against all commodities and against gold increased by about 30 percent over a period of three years, and this was the very time that all the telecom companies, all the communications companies, were incurring tremendous debt in order to build out the Internet."

And debt holders get pummeled when deflation comes around. "Anybody who had debt convertible into dollars was crushed during this period by the deflation that occurred, and this is what brought down a thousand telecom companies, essentially, and really transformed the picture of the industry."

He might have a point, but most observers tend to think the overwhelming number of companies getting high valuations -- sometimes without revenues to show for it -- had something to do with it, too.

Gilder still believes in optical and is still in love with the idea that the Internet could scale immensely by taking DWDM to extreme numbers of wavelengths per fiber -- 14,000 being a number he cited from some optical research.

But there's been a bump in the road to an all-optical network.

"Instead, we have Infinera," Gilder said. "Now, I am very impressed by Infinera and what they accomplished, but it's completely contrary to the paradigm that I've been expounding, and it's completely contrary to the optical paradigm."

Infinera's optical transport system relies on translating optical signals to electrical form at every node -- meaning, it's not all-optical. (See Infinera Declares WDM War.)

Infinera's chief marketing officer David Welch, who'd spoken earlier at the conference, happened to be out of the room for this part of Gilder's talk. After hearing a paraphrased version, Welch regretted not being around at the time.

What's really needed, Gilder said, is some "wild frontier" thinking, brash next-generation ideas to feed what he called the coming "exaflood" of data, driven by massive amounts of videoconferencing and the coming generation of realistic three-dimensional virtual worlds. (The term derives from "exabyte," or 1018 bytes.)

"The degrees of freedom for invention in optics are as great as ever," Gilder said. "Optics is still an open frontier, and this means that component companies have got to be systems companies. They have got to identify the potential for their components for transforming systems. If they control their business by trying to fit into spots defined by Cisco and Alcatel, they're going to stifle the evolution."

(Of course, that's just what Infinera did. Gilder noted as much but added that Infinera's network vision was "sub-optimal.")

Asked who's going to fund these "wild frontier" ideas, Gilder noted that he himself would step up, being a partner in a venture fund now. ("I decided I've done enough newsletters.") Beyond that, he seemed to expect the glory of optics to simply overcome other factors. "True innovations do create their own markets. That's what I'm looking for as an investor."

Asked whether other VCs burned by the last optical bubble would agree, Gilder went into a rant against global warming theorists, noting that other VCs were too busy funding solar-power initiatives that could only end in disaster. "As long as people think CO2 is a pollutant, they're going to do tremendously stupid things and leave lots of opportunities for those of us who realize this is just a passing fad."

— Craig Matsumoto, West Coast Editor, Light Reading