Chip Power Fuels 100G Startup
LOS ANGELES --
OSA Executive Forum
-- Startup
Acacia Communications Inc.
is indeed developing, and even shipping, 100Gbit/s optical transceivers, CEO Raj Shanmugaraj said during Monday's Executive Forum panel on startups.
The company still isn't giving many specifics about itself or its products. But Shanmugaraj did say Acacia's module is based on the
Optical Internetworking Forum (OIF)
framework -- the de facto standard that the industry has agreed to work on -- and that it's been shipping for nine months, delivered to customers that are in varying stages of testing.
Whether the company also has plans for photonic integration at higher speeds, as
Light Reading
idly speculated recently, is still unknown. (See
Acacia Takes a Stab at 100G
.)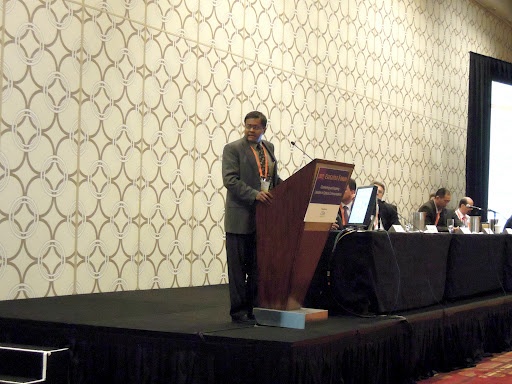 Shanmugaraj's main point was that the optical industry has reached a transition where electronics, rather than just photonics, are a crucial difference-maker. And that could create possibilities for startups, because electronics expertise is easier to find.
"Signal processing in optical transport is here to stay -- this is not something you hear about one time," Shanmugaraj said. "We are definitely betting on silicon. This is the direction that is going to make higher-speed transport doable."
Moreover, coherent transmission can help with the low margins that module makers struggle with. It won't fix the problem by itself, Shanmugaraj said. But it can help by reducing carriers' expenses by skipping regeneration and dispersion compensation. It can also reduce operational expenses, because, for example, there's no need for checking optical power levels when a wavelength is added.
For the first wave of 100Gbit/s, vendors have been using modules of their own design. Subsequent generations could be open to merchant suppliers, though, as they improve on the power consumption and cost of the original models.
"If you look at the early days of 10Gbit/s and 40Gbit/s, to some extent you see a lot of the equipment manufacturers doing their own," Shanmugaraj said. "As the technology matures, it gets to be quite cumbersome to keep doing the 18-to-24-month cycle" of improving the design.
The optical module market is already overpopulated by some measures, though, with established vendors including
Emcore Corp.
(Nasdaq: EMKR),
Finisar Corp.
(Nasdaq: FNSR),
JDSU
(Nasdaq: JDSU; Toronto: JDU),
Oclaro Inc.
(Nasdaq: OCLR),
Opnext Inc.
(Nasdaq: OPXT) and
Sumitomo Electric Lightwave Corp.
What makes Acacia think there's room for someone new to squeeze in?
Shanmugaraj isn't exactly saying. "In a year, you'll know a little better whether we're successful or not," he told
Light Reading
during a coffee break.
His point about semiconductors leading the next generation of optical development isn't lost on other startups, though.
ClariPhy Communications Inc.
is making a similar bet, offering chips that drive coherent modules. It started shipping a 40Gbit/s part last year and is aiming for 200Gbit/s next year, as
Light Reading
recently learned. (See
AlcaLu Can Do 400G Too
.) "We're not saying there's no place for ASICs, but as the market transitions, merchant chips are a necessary road to drive down cost," says Paul Voois, founder and chief strategy officer of ClariPhy.
A similar philosophy is being pursued by silicon photonics companies, which have been in the spotlight thanks to
Cisco Systems Inc.
(Nasdaq: CSCO)'s acquisition of
Lightwire Inc.
.
Luxtera Inc.
represented this group on Monday's Executive Forum panel. CEO Greg Young said the company is positioning itself for a possible IPO in 2014. (See
Lightwire Points Cisco Toward 100G
.)
For more
We're collecting our OFC/NFOEC coverage -- including the OSA Executive Forum -- here:
http://www.lightreading.com/ofc-nfoec
.
— Craig Matsumoto, Managing Editor,
Light Reading
PARTNER PERSPECTIVES
- content from our sponsors