Nearly three years after being carved out of Agilent Technologies Inc. (NYSE: A), optical specialist Avago Technologies Pte. is ready to go back public again.

Avago filed its form S-1 with the Securities and Exchange Commission (SEC) yesterday. It's got no share price listed and a maximum value of $400 million estimated for the IPO.

Formerly the semiconductor business of Agilent, Avago got taken private in 2005 by Kohlberg Kravis Roberts & Co. (KKR) and Silver Lake Partners . (See Avago Springs From Agilent.)

Since then, Avago has phased in and out of profitability. During fiscal 2007, which ended in October, it took a $158 million writedown of assets and incurred $51 million in restructuring charges, which led to on-paper losses in the July quarter. More recently, Avago clawed back to an 8 cents-per-share profit for the quarter that ended in May.

Table 1: Avago's Earnings

Quarter ended
July 31, 2006
Oct. 31, 2006
Jan. 31, 2007
April 30, 2007
July 31, 2007
Oct. 31, 2007
Feb. 3, 2008
May 4, 2008
Revenues ($M)
408
393
375
380
381
391
402
411
Earnings (Loss) Per Share
($0.11)
($0.36)
$0.03
$0.02
($0.78)
($0.01)
$0.02
$0.08
Source: SEC filing. Results for the most recent four quarters are unaudited.


Avago has slimmed down as well, having sold off off four businesses. That includes the sale of the storage operation to PMC-Sierra Inc. (Nasdaq: PMCS), a deal that happened before the Avago spinoff became official. (See PMC Bites a Bit of Agilent and Is PMC Storage Shopping?)

Table 2: Pieces Avago's Sold

Business
Sold to:
Base Price
Oct. 2005
Storage
PMC-Sierra
$420M
Feb. 2006
Printer ASICs
Marvell
$245M
Nov. 2006
Image sensors
Micron
$53M
c.Nov. 2006
Image sensors,
intellectual property
undisclosed
$12M
Oct. 2007
Infrared operations
Lite-On Technology
$19M
Source: Avago S-1.


Avago's products cover quite a swath, encompassing color sensors, LED displays, and radio frequency (RF) devices. In telecom optical, it sells transmitter and receiver modules as well as transceivers.

One question is whether Avago wants to brave this market, which hasn't been particularly friendly. The Nasdaq Composite has been up lately, but it's down about 15 percent since early November.

How has all this worked out for Agilent? The Avago spinoff, combined with other divestitures, was supposed to kick-start the stock as the company focused on its test-and-measurement strengths.

Agilent stock traded at $33.90 on Dec. 1, 2005, when the Avago spinoff was announced. After some ups and downs, it's right back at that level, closing at $34.63 yesterday. But it's recovered after suffering a dip, along with most tech stocks, during the first part of this year.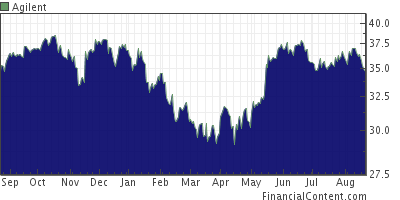 — Craig Matsumoto, West Coast Editor, Light Reading