4:45 PM -- Ta-da!

Light Reading is now sporting a new look and loads of new features, to serve you better. More on that in a minute.

For now, wanna free Light Reading T-shirt? Click on this link or the text ad right above our search bar on the home page, upload a photo to your profile page, and we'll mail you a T-shirt. Unless, of course, you won't give us your address or something in the fine print says we don't have to.

Now, back to the new Light Reading. A lot has changed over the years. Launch the slideshow below and you can see just how many different versions of the site we've had (or almost had), in addition to some old logo sketches and mascot drawings we found laying around the Light Reading corporate library: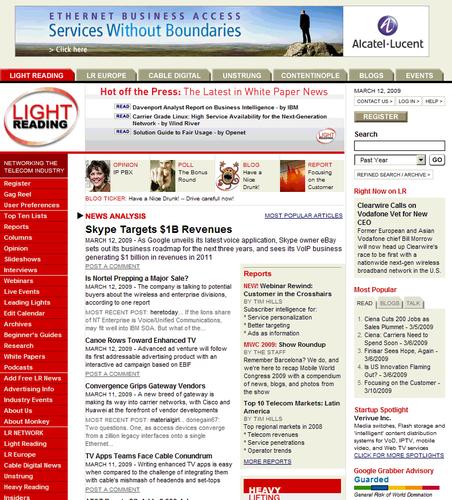 Finally, here's a quick list of some site improvements of note:


Message boards: You can now scroll underneath an article and see a complete discussion thread, rather than getting just one message per page view.


Notification: Now you can choose to get an email when someone comments on your comments. Should you choose to, you can have the last word. Unless you're arguing with brookseven. Or materialgirl. Just go to the email preferences link in your profile page, scroll waaaaay to the bottom, and tick the box by Message Notification blah, blah, blah.


Profile pages: Now all registered users of our site have their own bio page, where they can say as much or as little about themselves as they want.


Buzz Bin: Light Reading's own evolving, informal glossary of terms will attempt to take the mystery out of the industry's most confounding acronyms and expressions.


Content ratings: Promote what you like. Diss what you don't. It's as easy as yelling at your computer.


Multimedia accessibility: LRTV videos are now easier to see on the homepage, and Light Reading's photo slideshows are more visible on the secondary pages. Soon, the slideshows will have some improved navigation as well.


Those are just some of the changes. And please do use the board below to let us know what you like, don't like, can't find, or wish we could add to the site.

The entire Light Reading design and technical staff worked really hard to make this redesign/relaunch a reality. I'd especially like to thank Warren Hultquist, our director of Web operations; Chris Williams, our Web development manager; and Ken Surabian, our design director; and all the folks on their respective teams, for taking what were often vague instructions ("Let's make it more magical...") and somehow turning them into a functioning Website.

Now, having said that, what do YOU think?

— Phil Harvey, Editor-in-Chief, Light Reading