Eurobites: BT Attends University With Huawei to Study Photonics & More

Comment (1)
Also in today's EMEA regional roundup: DT's Bavarian brew; Kudelski makes some White Noise; EU set to approve Qualcomm/NXP deal soon?
BT Group plc (NYSE: BT; London: BTA) is forming an intellectual threesome with Huawei Technologies Co. Ltd and the University of Cambridge for a five-year research initiative that will focus on photonics, network infrastructure and media technologies. The project, which will have £25 million (US$33 million) pumped into it over its lifespan, will start work in the first half of 2018, using "five to ten" researchers from BT and Huawei working alongside boffins from the university. It is expected that the team will be based at the university's Maxwell Centre. Spookily, nobody even mentioned 5G.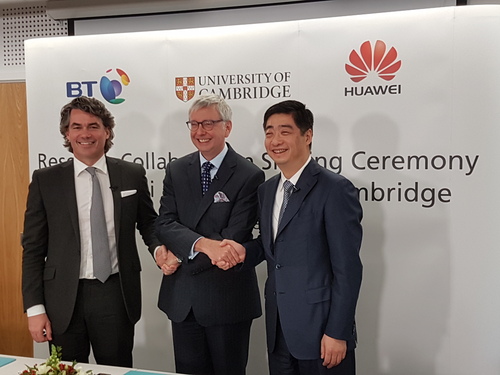 Deutsche Telekom AG (NYSE: DT) has big plans for Bavaria: The German giant says it will deploy an additional 1,000 LTE basestations in the country's southernmost region by the end of 2020, helping to eliminate more than 100 "white spots" over the next three years as part of state-supported program. Bavaria is a sparsely populated, largely rural region, so operators have been understandably reluctant to splash the cash on creating ubiquitous mobile connectivity there.
Switzerland-based Kudelski Group has launched "White Noise," a mobile security offering that is deployed as a hardware add-on to existing devices, either as an SD card for Android devices, a security case for iPhones or a secure headset. The app, once installed, protects voice calls and group chat messaging using strong encryption.
Jaguar Land Rover, the UK-based but Indian-owned carmaker, has tested its first driverless cars on Britain's public roads, Reuters reports. The trials are taking place in the midlands city of Coventry, and they will continue into 2018. According to a recent report by David George-Cosh for the Wall Street Journal and cited by The Connected Car, Jaguar Land Rover is considering a deal with BlackBerry (remember them?) to use the latter's QNX Software Systems in its connected car program.
US chip giant Qualcomm Inc. (Nasdaq: QCOM) could have EU approval for its takeover of NXP Semiconductors N.V. (Nasdaq: NXPI) in the bag by the end of the year, according to a Bloomberg report. People "familiar with the review" have told Bloomberg that regulators are happy with the proposed deal now that Qualcomm has promised not to acquire standard essential and system-level patents belonging to NXP. Qualcomm itself, of course, has only recently rejected a $105 billion takeover bid by Broadcom. (See Qualcomm Makes $39B Bet on NXP and Qualcomm Rejects $105B Bid From Broadcom.)
The Mayor of London, Sadiq Khan, says that Uber's appeal against the city's transport regulator's decision not to renew the smarphone-powered cab company's operating license could take "a number of years." As Reuters reports, Transport for London caused something of a sensation in September when it refused Uber's renewal request. (See Uber Crashes Into UK Regulators, Loses London License.)

— Paul Rainford, Assistant Editor, Europe, Light Reading
PARTNER PERSPECTIVES
- content from our sponsors
GUEST PERSPECTIVES
- curated contributions