Optical Disaggregation Is Coming, but Do Carriers Care?
PRAGUE -- 2020 Vision Executive Summit -- The idea of optical disaggregation is working up a head of steam, but operators don't yet consider it a top priority.
Heavy Reading analyst Sterling Perrin discussed this in an October column here on Light Reading, and he expanded on that point during a session at 2020 Vision Executive Summit this week. (See What Color Is That Optical White Box?.)
His talk was mainly about what's being called the optical white box -- a bit of a misnomer, Perrin argues. The idea is to use general-purpose hardware as the basis for optical line systems. But unlike packet processing, optical networking comprises multiple types of equipment -- amplifiers and ROADMs, for example.
It's true that carriers are interested in applying SDN and API-based control to the optical network, but those things don't have the same generic-hardware implications that come with the phrase "white box."
"What happened is, people started calling these things 'optical white boxes,' and this is where I think the industry got a bit confused," Perrin said.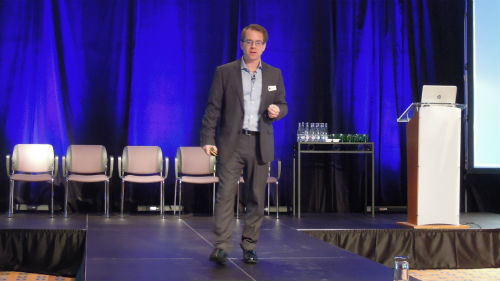 Optical disaggregation has gained some traction partly because some of optical networking's analog issues have been shifted to the digital realm. That's allowed vendors to use DSPs inside optical transceivers, which in turn has opened a merchant DSP market. Acacia Communications Inc. deserves some credit for getting that market going -- as does Ciena Corp. (NYSE: CIEN), which earlier this year announced it would sell its WaveLogic Ai chipset to transceiver vendors. (See Ciena Offers Its Wavelogic Tech to Component Vendors.)
Bringing disaggregation to the optical line system won't be as straightforward, although some companies -- web-scale cloud operators, in particular -- seem determined to try.
Perrin listed three efforts underway: the Open ROADM project from AT&T Inc. (NYSE: T); an open line system being developed by Microsoft Corp. (Nasdaq: MSFT); and the line system group at the Telecom Infra Project (TIP) , co-chaired by Infinera Corp. (Nasdaq: INFN) and Lumentum Holdings Inc.
"Google also has an open line system. From what I've read, it doesn't seem to be very consistent with what Microsoft is doing, but the goals are the same," Perrin said.
Running the numbers
For all the attention it gets, optical disaggregation isn't tops on carriers' wish lists, according to Heavy Reading's latest survey.
Operators were polled on which new technologies they most wanted, with SDN and network automation topping the list. Disaggregation was "almost at the bottom of the options we gave them," Perrin said. "It's not a high priority in the next one to three years."
Asked where the greatest value lies in disaggregation, more than 50% of the operators polled ranked data center switching and routing as a "high importance" item. Nearly half said the same for customer premises equipment. But barely more than 30% put high importance on the optical categories of metro transport, long-haul transport, and OTN switching.
The optical line system fared a little better, scoring nearly 40%.
— Craig Matsumoto, Editor-in-Chief, Light Reading
PARTNER PERSPECTIVES
- content from our sponsors