Cisco Systems Inc. (Nasdaq: CSCO) has completed a trial of coherent 100Gbit/s dense wavelength-division multiplexing (DWDM), the first salvo out of an apparently rejuvenated optical division.

US Signal announced Thursday that it completed the trial using the Cisco ONS 15454 on a span from Kalamazoo, Mich., to Chicago, running on fiber originally intended for 10Gbit/s.

Cisco picked up coherent technology through the acquisition of CoreOptics last year.

Why this matters
Cisco is serious about optical again. The company is coming off of a year of market-share gains and is now affirming that it's going to use CoreOptics for more than router interfaces.

That could have interesting implications in an optical systems market where "Other" is still the dominant player. Alcatel-Lucent (NYSE: ALU) and Huawei Technologies Co. Ltd. have market shares in the 20 percent range, but Cisco has suddenly made itself relevant in the next tier, as this chart from Infonetics Research Inc. shows.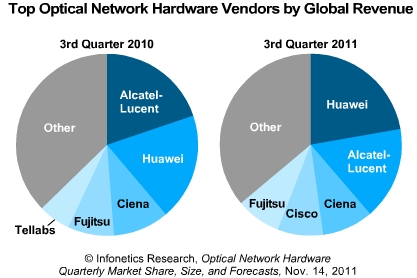 For more
Here's some background on Cisco's optical ambitions -- and an oldie but goodie about how the company once considered exiting optical networking.

— Craig Matsumoto, West Coast Editor, Light Reading