Optical Switches: $16 Billion Worth?

Comment (8)
The worldwide market for optical switch components and subsystems will soar from $308 million in 2000 to $2.8 billion in 2005. After that, it will continue growing at 42 percent a year, reaching $16.1 billion in 2010, according to a forecast from
ElectroniCast Corp.
.
The projections are based on interviews with network planners at 15 service providers, according to Jeff D. Montgomery, ElectroniCast's chairman. He maintains that it's perfectly possible to make such long-term predictions, even though the optical switch market is in its infancy. He claims ElectroniCast's forecasts have never been more than 50 percent out at the end of a 10-year period. "The actual figures are almost always more," he adds.
ElectroniCast's study covers components and subsystems made by the likes of
JDS Uniphase Inc.
(Nasdaq: JDSU; Toronto: JDU) and
OMM Inc.
. It doesn't cover what these products are mainly used for -- to make the optical switches sold to carriers by vendors like
Ciena Corp.
(Nasdaq: CIEN) and
Sycamore Networks Inc.
(Nasdaq: SCMR).
The study distinguishes between "conventional" switches, the small-scale widgets that have been sold for many years, and "matrix" switches, which typically have multiple input and output ports. Matrix switches vary in size from 4x4 to many thousands of ports.
ElectroniCast reckons that the market for matrix switches will grow rapidly, accounting for 59 percent of the 2010 market, compared to 35 percent of the 2000 market.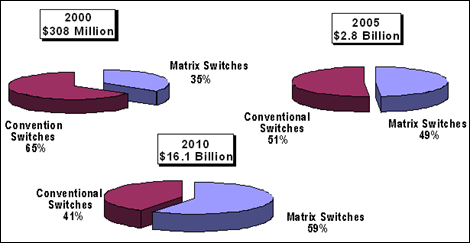 Montgomery says there will be particularly strong demand for very big matrix switches -- a finding that contradicts an earlier study by
Pioneer Consulting
(see
Optical Switch Market Faces Slow Start
). Montgomery says this could be because his panel of network planners came from a wider range of operators, including a number of next-generation carriers such as
Level 3 Communications Inc.
(Nasdaq: LVLT),
Qwest Communications International Corp.
(NYSE: Q), and
Williams Communications Group
(NYSE: WCG). These types of carriers want to buy "the biggest optical switches anybody can provide," according to Montgomery.
ElectroniCast figures that 81 percent of optical switch components were sold in the U.S. last year. This will decline to 75 percent by 2010.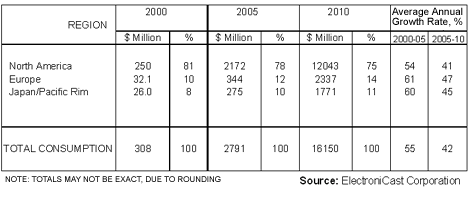 -- Peter Heywood, international editor,
Light Reading
http://www.lightreading.com


PARTNER PERSPECTIVES
- content from our sponsors
GUEST PERSPECTIVES
- curated contributions