Carrier capital spending has not yet hit bottom. It will continue to deflate for the foreseeable future, starting with a sizeable dip from current levels in 2002.

So says the latest report from the Optical Oracle, Light Reading's subscription service. Titled "Carrier Capital Spending: Past, Present, and Future," the report looks at how carrier spending on equipment increased 250 percent from 1997 to 2000, what slammed on the brakes, and what it will take for spending patterns to show significant growth once again.

Based on feedback and financial data from 11 top carriers, the report concludes that carriers, which expanded their capital spending far more quickly than their revenues and profits, have no choice but to cut back. For 2001, carrier capex is poised to decline 16 percent from the previous year, and based on early forecasts from the carriers it will decline another 35 percent in 2002. After that, expect declines of 10 percent per year through at least the next three years, the report says.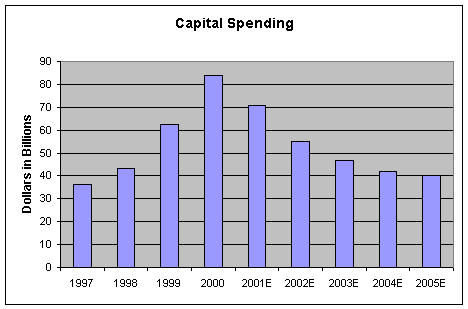 The report delves deeply into the mismatch between speculation and reality from the preceding two years that's made the recent spending decline so severe. "It's best to look at 1999 and 2000 as anomalies in terms of venture capital, financing from Wall Street, and financing by the equipment vendors themselves," says the report. "When new technology investments failed to yield the profits or revenue growth necessary to sustain overinvestment, the service providers were forced to scale back."

The financial bubble created by the financing binge wasn't the only factor in bringing about the current capex downturn. The business case for spending was never there in the first place, according to the report. This is clearly shown when charting the flow of up-front capital expenditures against carriers' actual revenue and profit growth.


The report dissects how each individual carrier has contributed to this ongoing trend. By breaking out capital expenditures for each carrier in ratio to its sales, it's possible to see where some of the existing bright -- and dark -- spots lie.

Clearly, though, only a renewal of infrastructure spending can start shortening the overall downward trend. And that won't occur until network utilization compels the carriers to revamp their networks. The report says this will be a gradual process that won't commence until late 2002 or early 2003.

The process won't be easy to track. According to the report, carriers keep vital information about network utilization, lit and unlit fiber, and use of existing fiber under tight wraps. Without this information, it will be difficult to forecast exactly when carrier networks will be set for expansion once more. But the report says the time will come. "It's just going to be a long wait -- probably two or three years," says Optical Oracle analyst Christopher Bulkey.

Optical Oracle is Light Reading's subscription electronic research service for professional investors and industry leaders. More information is available here.

— Mary Jander, Senior Editor, Light Reading
http://www.lightreading.com Editor's Note: Light Reading is not affiliated with Oracle Corporation.