Interconnections & the Escape From New York

Comment (2)
CHICAGO -- International Telecoms Week -- "Escape from New York" seems to be an emerging theme at this massive event, where global wholesalers, subsea cable operators, data center and interconnect companies and network operators alike all meet to do business. Increasingly, that business is purposefully moving out of Manhattan, where once large carrier hotels like 60 Hudson dominated the landscape.
According to multiple sources here, cloud providers, carriers and enterprises alike are looking for diversity and the ability to avoid the vulnerability of taking the bulk of their traffic into the Big City.
Telecom Italia Sparkle , the international service arm of Italy's TIM Group, today announced a "wet" fiber connecting the New Jersey Fiber Exchange (NJFX) directly to Boca Raton, Fla., from where it can offer direct connections to the Caribbean or South America, as well as the Equinix NAP of the Americas in Miami, a major interconnection point. A much smaller interconnection and colocation operator, 1025Connect , is here touting its Long Island-based facilities which next week will formally host DE-CIX Management GmbH , the Internet exchange company that is based in Frankfort, Germany, but is now boasting the highest number of North American access points, and will gain access to 160 networks with this move.
"What people are trying to do is avoid pinch points, and New York City is a pinch point," says Gil Santaliz, founder and CEO of NJFX. What Sparkle is doing is repurposing a subsea cable it acquired with about eight terabits of capacity by connecting it to NJFX and terminating the fiber at Boca Raton, Fla., he explains. From either of those spots, traffic can go to New York and Miami, but it can also avoid those pinch points and go anywhere else including, on the southern end, to the Caribbean and South America.
"If there are two buildings in the US you don't want to lose today, it's NAP of the Americas and 60 Hudson St.," Santaliz says in an interview here. "If you lose one or both of those buildings, it's pretty catastrophic for the US and the communications industry. [Sparkle] just solved that problem."
---
You're invited to attend Light Reading's Big Communications Event -- the ONE event that delivers fresh perspective on the rapid transformation of the telecom industry and the road ahead. We'll see you May 14-16 in Austin -- communications service providers get in free!
---
Two other industry trends -- carrier consolidation and the cloud explosion -- factor into this deal as well, he notes. The former has reduced the number of operators building and running physical facilities along the I-95 corridor between New York and Miami, while the latter has reshaped where network traffic is going, making data center interconnection the priority.
"Ashburn [Va., an Internet and data center hotbed] didn't exist 20 years ago when most of today's fiber routes were put in," he notes.
Subsea connections weren't considered a cost-effective approach to handling telecom traffic when that major fiber buildout occurred, Santaliz notes, but the combination of the bandwidth boom and technology advancements is changing that.
Companies such as Crosslake Fibre are capitalizing on this trend by offering connections between Toronto and Buffalo that are partially subsea, and also connections between NJFX in Wall, NJ and the 1025Connect facility in Westbury, NY.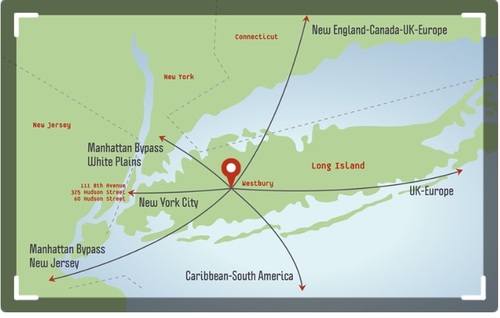 Dan Lunde, managing director of 1025Connect, notes that his company is more of "boutique carrier hotel" and much smaller than NJFX, but it is still capitalizing on the same trend of carriers looking for connections, especially to subsea cables, that don't require dependence on Manhattan-based carrier hotels. 1025Connect provides direct submarine cable access to four different transatlantic cable systems in its facility and five different Manhattan bypass fiber routes including those operated by Altice and Lightower.
"People want to connect in different places," Lunde says in an interview. "They are looking for diversity. In our case, they can come from Europe, hit our facility and then go down to [NJFX] and avoid Manhattan entirely."
DE-CIX is already selling Internet connectivity based on its 1025Connect facilities, he says, offering connections to 160-plus networks in the New York metro area but also the ability to bypass Manhattan using -- potentially -- the Altice fiber route through 360 Hamilton Ave., in White Plains, NY, or the Cross Sound Cable System to New Haven, Conn.
Being based on Long Island also lets 1025Connect offer lower-cost interconnection which Lunde says it enhances by charging only for space and power and not layering on multiple fees for cross-connections or point-of-entry. He calls it the "Stone Soup" approach to interconnection.
"We think that economically it makes more sense as well in terms of redundancy," Lunde says.
— Carol Wilson, Editor-at-Large, Light Reading
PARTNER PERSPECTIVES
- content from our sponsors
GUEST PERSPECTIVES
- curated contributions