The explosion in demand for diverse sources of bandwidth is fueling the business case for one dark fiber provider that is using subsea optical cables to cross lakes, not oceans. Crosslake Fibre is starting with a submarine cable across Lake Ontario to connect Toronto and Buffalo, but has plans for other projects in North America as well.
The drivers for the initial project are clear, says Crosslake Fibre Inc. CEO Mike Cunningham: It's not just about the bandwidth, it's also about the path.
"If you are coming out of Toronto, the other cables share the same physical rights-of-way so diversity is a big driver for us, in addition to the fact we are adding new connectivity in a region where long-haul connectivity is somewhat constrained," he says in an interview. "We are serving that route in a unique way that adds the additional benefit of being a physically diverse path."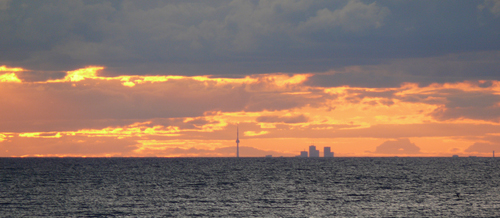 Crosslake sells dark fiber exclusively, primarily to other telecom service providers, who increasingly find their customers want diversity in fiber routing to make sure one fiber cut doesn't wipe out their primary and backup cables. The shorter distances covered allows the Canadian-based company to do non-repeatered submarine cable that don't require landing sites, making the construction process a bit easier by eliminating the need for power and more elaborate shelters.
In less than two years, Cunningham and crew have identified two projects, Lake Ontario and a second cable they are calling Wall-LI, which will connect Wall, N.J., and the New Jersey Fiber Exchange (NJFX) to Westbury, N.Y., and the 1025Connect carrier hotel facility on Long Island. The Ontario cable is due to be ready for service in the fall of 2018 with the second project expected to be up and running a year from now. (See Interconnections & the Escape From New York.)
Smaller subsea segments will become more important going forward, says Gil Santaliz, founder and CEO of NJFX.
"We will be using more of these," he says. "They are important both as shortcuts -- so you don't have to go around a body of water -- and as a means of diverse routing. Crosslake is leading the charge."
---
What are the biggest architectural and technology options network operators face as they update and build new transport networks to support 5G? Find the answers at the 5G & Optical Transport breakfast workshop at NGON & DCI Europe in Nice, France on June 26. The event is free for all attendees!
---
Cunningham admits, however, that growing by leaps and bounds may not be his company's plan, as each project is somewhat unique and driven by the specifics of the geography and the surrounding market. The company has private equity backing -- Tiger Infrastructure is an announced backer -- and establishes market demand for each site before committing capital, he says.
"Every project is challenging just from pulling different pieces together - identifying the opportunity and putting a cost to actually develop the project and making that fit with the sales that we need to get to move the project forward," Cunningham says.
There are also issues around permitting, and since this is not a well-developed field as yet, Crosslake has to work with a variety of local and regional officials to get the access it needs and, in some cases, educate them as to the importance of these projects, he adds.
"There's definitely a learning curve for agencies and authorities," Cunningham comments. "It is pretty low impact, what we do -- especially if we adopt best practices."
Once on dry land, Crosslake typically connects to a carrier hotel, like NJFX, to reach the broadest range of potential customers for its dark fiber services.
— Carol Wilson, Editor-at-Large, Light Reading