Upgrades & Upheaval at the Service Provider Edge
LOS ANGELES -- Mobile World Congress Americas -- I haven't been here long enough to see the ocean yet, but the talk about the coming waves of mobile bandwidth enabled by 5G has already started. As Mobile World Congress Americas opens its doors tomorrow, vendors are stepping up with edge routing upgrades to handle the upcoming capacity and network flexibility anticipated by service provider 5G networks.
Indeed, 5G networks will kick off all kinds of changes in the telecom network infrastructure, including advances in edge computing and distributed cloud environments, according to Ovum Ltd. Senior Analyst Julian Bright. The service provider core and edge will need to be ready.
"Edge computing in 5G networks … will need to support core network functions at the same time as routing traffic at the edge to ensure continuity of service and to manage aspects such as cell handover," Bright said in an email to Light Reading. "These demands will require high-performance routing capabilities to match." (See Piecing Together the 5G Big Picture.)
Not surprisingly, the industry's largest router vendors are showing off their biggest and best routers for the service provider edge.
Most notably, Cisco Systems Inc. (Nasdaq: CSCO) today announced significant updates to its ASR 9000 edge routing platform -- new automation software, a new networking processor, and enhancements to its IOS XR network operating system. Each vendor in this space can't help but react to Cisco's market movements -- as of the first quarter of 2018, Cisco held nearly 40% of the combined worldwide service provider and enterprise router market share, according to research firm IDC. (See Cisco's Refreshes ASR 9000 Edge Routers.)
"We have more than 90,000 ASR 9000 systems deployed around the world across 4,500 customers," Sumeet Arora, senior vice president of engineering, Service Provider Network Systems, Cisco, told Light Reading.
"This is the Swiss Army knife of networking," Arora said. "You can deploy the 9000 in any part of the network. As the network changes, as the traffic shifts, the investment is protected and your network is ready."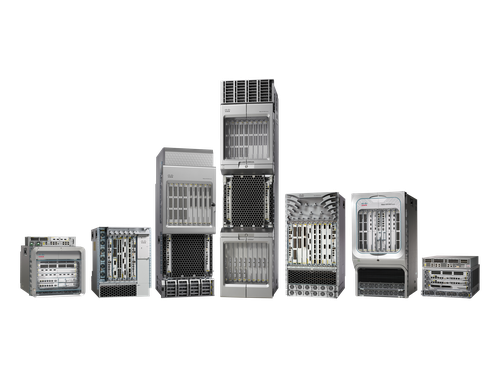 Cisco wasn't the first to tout a 5G-friendly edge routing makeover.
In June, Juniper Networks Inc. (NYSE: JNPR) announced the fifth generation of its edge routing platform, the MX series. Those updates included a new "Penta" network processor and came with promises of more bandwidth, more power consumption savings and more secure connectivity provided at scale. Juniper's Penta-powered line cards for its MX960, MX480 and MX240 will be available in the first quarter of next year. (See Juniper's New MX Routers Target 5G, IoT.)
In addition to new capabilities, router makers are also trying to make it easier for service providers to add capacity to their networks, when and where they need it most. Cisco said it now offers network-wide pay-as-you-grow license pooling, so carriers don't have to buy hardware and software licenses on a per-site basis, which can be a headache when they over-provision for one site and traffic shifts elsewhere. Also, some ports on the newest line cards can be activated on-demand, within deployed or new ASR 9000 chassis, a feature that allows service providers to react more quickly to changes in traffic patterns or service offerings.
Like Juniper, Cisco's pitch to network operators is around technical flexibility, for newer customers, and investment protection for the installed base.
Both the Juniper MX series and Cisco ASR 9000 series platforms are a decade old, but both platforms have some compatible cards and software featured in their latest systems. "There is no other platform in the industry that gives as much investment protection for our customers," Manoj Leelanivas, Juniper's chief product officer, told Light Reading in June. Cisco's Arora said nearly the same thing, almost verbatim, when we spoke last week.
Both vendors also stress the speed, performance and flexibility of their solutions. Though the trend in cloud computing is to use off-the-shelf hardware and merchant silicon in white box routers, both vendors noted that service providers would likely prefer the performance and management advantages of having a fully integrated solution from a single vendor, compared to having to bring different pieces together.
Though Cisco has the market share advantage in the routing and switching business, Juniper's MX series is getting a go-to-market boost from Ericsson AB (Nasdaq: ERIC), as part of that vendor's 5G transport pitch to service providers. In Ericsson's 5G transport set-up, Juniper's gear would support connectivity between radio cell sites and an operator's core network. Ericsson's decision not to use Cisco mainly was due to competitive overlap. (See Ericsson Signs Up ECI, Juniper for 5G.)
That go-to-market tidbit is instructive. Though the technology for new edge routing updates is impressive and both Cisco and Juniper have stepped up with new features, performance, software enhancements and so on, often the decisions that put one over the other are not at all about what's under the hood but, rather, who's buying, who they're comfortable with and what's already in their network.
What is clear is that projected upcoming explosion in mobile network bandwidth will change computing, storage, networking and media -- almost all at once. Service provider networks are, naturally, part of that change. "It is likely that some service providers will see this architectural change as an opportunity to make the transition to more cost-effective, commoditized components and platforms as a means of reducing cost," said Ovum's Bright.
With more powerful, flexible edge routing platforms that are delivered with the service provider's business goals in mind, Cisco and Juniper seem dead set on getting the most from their installed base, while not giving their customers a reason to "transition" to other platforms.
"We want to solve our customers' problems and however our customers want to solve those problems, we are there to help them with that," Juniper's Leelanivas told me in June.
Cisco's Arora noted that his company "leverages end-to-end architecture" and its installed base enterprise and service provider networking gear makes the transition to 5G easier. Service providers who already have ASR 9000s in their networks are "ready for 5G today; you don't have to do a forklift upgrade," Arora said.
— Phil Harvey, US News Editor, Light Reading