SAN JOSE, Calif., September 11, 2018 – As the world continues to embrace the reality of 5G and multicloud, service providers are experiencing disruptive growth and change that require new approaches to more efficiently build and cost-effectively manage critical IP networking infrastructure.
5G connections are expected to explode from 2.3 million in 2020 to more than 25 million in 2021 -- more than 1000-percent growth . Multicloud services are accelerating, driven by shifts in content, compute and cloud requirements. Nearly 850 zettabytes of data will be generated by all people, machines and things by 2021, up from 220 ZB in 2016.
How IP networks are architected and built through these transitions is critical for sustaining service provider profitability during this period of explosive traffic growth.
Cisco is focused on creating networks that anticipate and respond to customer needs and shifting market conditions in real time, based on closed-loop automation and advanced analytics capabilities.
Today the company is unveiling continued innovation for its flagship service provider edge routing platform to support its customers' business transitions, offering more flexibility with new licensing models to purchase capacity on demand.
In the past ten years, more than 4500 service provider, enterprise and public sector customers around the world have relied on the Cisco ASR 9000 edge routing platform to manage and deliver billions of connections over their networks.
Now the same edge routing platform thousands have grown to know and trust can carry them into the 5G and multicloud era with new automation software, a new networking processor powering high-density 100GE line cards to boost network performance, and enhancements to the IOS XR network operating system.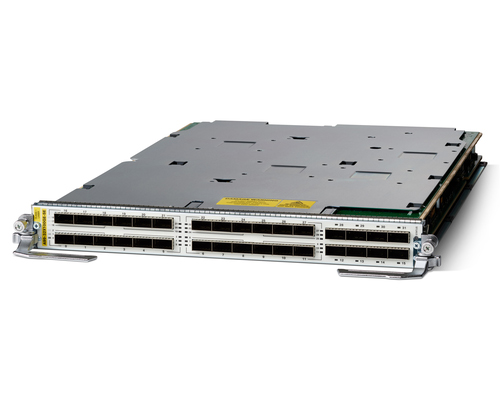 Service providers are building their IP infrastructures with end-to-end architecture evolution in mind to support multiple revenue-generating services, as well as preparing for inevitable shifts in traffic. To support these goals, Cisco is now offering network-wide pay-as-you-grow license pooling, allowing ports on the new-generation line cards to be activated on-demand, within deployed or new ASR 9000 chassis.

Customers no longer have to forecast capacity and purchase licenses on a site-by-site basis. Licenses can be dynamically allocated as across global networks, optimizing capex spend and simplifying capacity planning with a full network view.

Powered by Cisco IOS XR software, the ASR 9000 is automation ready. Service providers can now take advantage of the Cisco Crosswork Network Automation portfolio, the industry's most comprehensive closed-loop, mass-scale automation solution that embraces multi-vendor networks. Architecture plus automation now primes Cisco customers for the most optimal cost footprint with operational agility.

Cisco Systems Inc. (Nasdaq: CSCO)