Infinera, Coriant Hear a $430M Siren Song of Synergy
The optical networking equipment space, once supporting several multi-billion dollar empires, continues to consolidate. In the latest example, Infinera buys Coriant for $230 million in cash and some issued stock for a total transaction value of about $430 million. (See Infinera to Buy Coriant for $430M.)
Infinera and Coriant say the deal will bring together a very complementary set of assets, technologies and customer accounts.
"The essence of Infinera's competitive edge has always been vertical integration," said David Heard, Infinera's General Manager, Product and Solutions, in a conversation with Light Reading on Monday. "In the optical world, if you can get the highest performance and lowest cost basis and make that agile for use in the network -- that's a good thing."
The struggle for Infinera, Heard explained, is that it's not in a lot of the global Tier 1 carriers. Also, the portfolio matters, too, Heard said. "Having all the way out from 5G, fiber deep, cable through the metro core -- we see a lot of disruption," he said. Because 5G is causing service providers to spend more to put fiber and computing resources out on the edge, adding complementary pieces to Infinera's long haul and metro optical business was attractive.
Infinera execs say the combination takes a vertical integration expert with some big cable operator accounts and pairs it up with Coriant, a company that has a portfolio of different technologies, several mobile operator customers and some Tier 1 relationships as well.
Marlin Equity Partners spent more than $1 billion trying to integrate all of Coriant's technology portfolio vertically. That investment was over the last five years and was aimed at "significantly advance its portfolio to address the growing demand for software automation and open, disaggregated platforms," the company said in a statement. But Coriant still wasn't as vertically integrated as it wanted to be and its new majority owners -- Oaktree Capital Management -- tapped Infinera for help.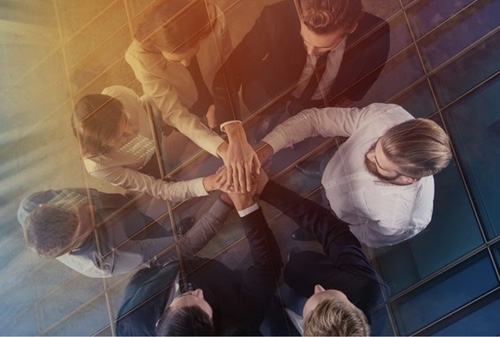 The two companies say the acquisition approximately doubles Infinera's revenue and expands the company's customer base "to serve nine of the top 10 global network operators (five new to Infinera) and the top six global internet content providers (three new to Infinera)." In the investor conference call, Infinera executives said the two companies only overlap in one of each of their top ten customers and, in that customer, Infinera is the incumbent long-haul provider and Coriant is the incumbent metro provider.
According to Heavy Reading Analyst Sterling Perrin, Coriant and Infinera combined to cover less than 10% of the total, global optical networking market share in 2017. Ciena, by comparison, had a little more than 15% and Huawei had just under 30% of the worldwide optical networking market. Perrin said Infinera's motivation was definitely to add some complementary pieces. The long-haul optical market "has slowed tremendously and the metro optical market has been a better growth opportunity," Perrin said.
Coriant and Infinera are almost identically sized as far as revenues. Infinera's 2017 revenues were $740.7 million, down nearly 15% from the previous year. Coriant's 2017 revenues were about $750 million, with approximately $525 million coming from equipment sales, according to Heavy Reading estimates.
On the investor call Monday afternoon, Infinera said that Coriant burned about $50 million in cash in 2017, had to bid aggressively on new deals and Infinera's managers think that the combined company will be profitable with positive cash flow in 2019.
Infinera has come a long way since it first announced a long-haul optical networking transport system that saved money by integrating the key components needed to perform optical-electrical-optical (OEO) conversions during transmission. (See Infinera Declares WDM War.)
The purchase of Coriant is, by our count, Infinera's fourth acquisition. In 2005 the company acquired Big Bear Networks, an optical networking company that was in the process of shutting down. In 2007 it bought Little Optics, a components vendor. In 2015, the company spent $350 million for Transmode Systems, a move that blended its long-haul optical transport capabilities with the Swedish vendor's metro core, edge, and access gear -- putting a full selection of WDM equipment and technology under one roof. (See Infinera Acquires Little, Infinera Bags Big Bear and Infinera Makes $350M Offer for Sweden's Transmode.)
Coriant sprang to life in 2013, when Marlin Equity Partners combined the optical networking businesses of Nokia Siemens Networks and Sycamore Networks Inc. under that single, obtuse moniker that still sounds like a vitamin supplement. (See Sycamore + NSN Optical = Coriant and Coriant Separates from NSN.)
Along the way, Marlin Equity Partners picked up Tellabs and added it to Coriant in a deal that was announced at $891 million. (See: Optical Stock Watch: Tellabs and Tellabs Axes Product, Cuts Jobs.)
Not all are convinced that consolidation necessarily equals a leaner, meaner company because significant company integrations are challenging and, sometimes, messy. In comment on the speculation of a deal in a note to clients last week, MKM Partners analyst Mike Genovese wrote: "[The integration] challenge would likely be particularly acute since many of Coriant's customers would want to remain on their legacy Coriant platforms, thus not helping Infinera's PIC volumes and margins. Both Infinera and Coriant are low operating margin companies, and there are questionable synergies."
Synergy, though, is the name of the game here. "This accretion will come from $100 million of identified cost savings in both cost of goods sold and operating expenses," Infinera said in its press release. "Total cost synergies of $250 million are expected through 2021, with the continuation of operating synergies and the introduction of vertical integration into the Coriant product line, resulting in a step-function increase in Coriant's margins."
— Phil Harvey, US News Editor, Light Reading


UPCOMING LIVE EVENTS
June 6-8, 2023, Digital Symposium
June 21, 2023, Digital Symposium
December 6-7, 2023, New York City
All Upcoming Live Events
PARTNER PERSPECTIVES
- content from our sponsors