Also in today's EMEA regional roundup: Ericsson invests in Polish plant; Sparkle launches Italy-UAE roaming link; Telia takes on the Baltic's poisonous algae.
Vodafone UK has mounted a legal challenge to communications regulator Ofcom over what it considers Ofcom's "flawed" Business Connectivity Market Review ruling published in June this year, which relaxed some of the regulatory constraints on Openreach, the UK's dominant supplier of dark and lit fiber capacity to communications service providers. As our sister site Broadband World News reports, Vodafone believes that the regulation plays into the hands of BT-owned Openreach by ultimately forcing Openreach's customers to pay hundreds of millions pounds more for their network access than they did under previous rules. Helen Lamprell, Vodafone UK's general counsel and external affairs director, said: "Ofcom has made a fundamental error and introduced regulation that is not based on hope, not evidence."
Ericsson is to invest an unspecified amount in its plant in Tczew, Poland to help it prepare for wider 5G rollout across Europe, Reuters reports. The vendor said that the Tczew site would be fully operational for the European market by the first quarter of 2020.
Italy's Sparkle has established a 5G data roaming connection between Telecom Italia (TIM) and Etisalat, the UAE-based operator, allowing both TIM and Etisalat mobile customers to access 5G services while traveling abroad.
Tele2's current EVP for international markets, Guillaume van Gaver, is to leave the Swedish operator on September 15. The move is being presented as fallout from Tele2's merger activity in the Netherlands, its exit from Kazakhstan and the divestment of its Croatian business. According to a Tele2 statement, van Gaver, who has been with the operator since 2016, will pursue a "continued international career outside of the company."
Despite some authorities on the subject describing it as a "Chinese hoax," global warming does seem to be wreaking havoc on the world. One of its many and varied effects is to bring ever-larger blooms of poisonous blue-green algae to the Baltic Sea. Not good. Now Telia has teamed up with Nokia, Nordkapp, Finnish Environment Institute SYKE and Vaisala to trial the use of 5G connectivity in the monitoring of the algae situation. A camera and sensor-equipped drone was flown over the Baltic, and the high-resolution video was transmitted over 5G for real-time analysis, incorporating a range of data including satellite imagery and automated chlorophyll measurements from ferries sailing in the area. See the video below for the full story…
Mobile calls may generally rule the roost these days, but London's still running out of landline numbers. Blame fixed-line broadband. But it's alright, telco regulator Ofcom is going to create 10 million new ones later this year. Welcome, people, to the brave new world of the "(020) 4" prefix. Here's a pleasing graphic showing the dialing changes that have been wrought on the UK capital over the years…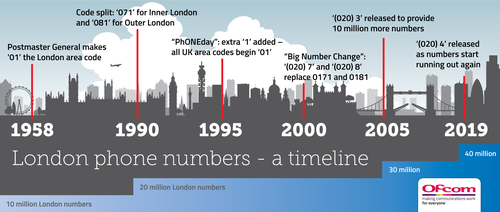 — Paul Rainford, Assistant Editor, Europe, Light Reading