Optical Funding: Down but Not Out
Startups targeting ways to optimize existing bandwidth stand to garner the most support from venture capitalists, according to "Valuation Deflation," the latest report from the
Optical Oracle
, a subscription-based service from
Light Reading.
The report quantifies the fall of private-sector valuations over the past several months, as the market's reacted to a "bubble" of overinvestment and inflated expectations. It also tracks the trends that are emerging as the optical networking market proceeds to the next stage of its evolution.
While valuations are a fraction of what they were a year ago (see
Valuation Deflation in Startup Land
), there's still investment going on. Companies getting money now are those that promise to leverage the optical facilities so many carriers built out in the first flush of optical Internet expansion. Among the hot spots: IP and MPLS edge routing, which will widen the quantity and quality of the services on existing IP networks.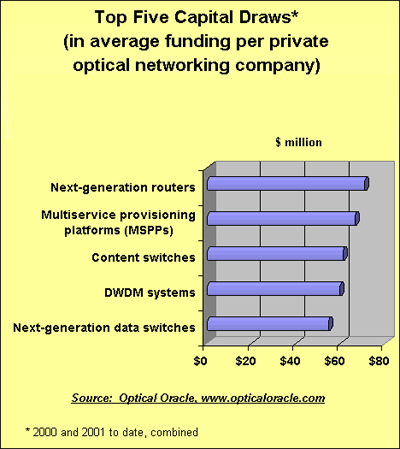 Also on the boil are access platforms, especially those targeting optical Ethernet connectivity. Content switches, DWDM systems, and next-generation data switches also offer ways to make the best of fiber already installed.
A few other technologies are warming up, the report says, as revenues increase and demand builds -- a trend many experts see evolving over the next two years or so (see
Enjoy the Summer
). Included in this category are products for IP service aggregation and fiber and hybrid fiber/coax access.
A couple of once-promising technologies have been relegated to the deep freeze until carriers see the need to expand capacity and start spending on network buildouts once again. In cryogenic mode are long-haul networking, where carriers have cut back heavily in response to a lack of immediate demand. Also under the ice is optical switching gear, for which many service providers don't yet see any revenue advantage over existing facilities.
According to the report, the optical component segment is also no place to look for venture funding right now. "The sector is becoming increasingly commoditized," writes our financial analyst, Christopher Bulkey. "There are too many players in the space." As a result, near-term prospects for funded companies are bleak.
The report, available as part of the new subscription service from
Light Reading
,
www.opticaloracle.com
, scrutinizes the valuations of a Heinz-worth of private sector startup companies (57, that is), comparing valuations to actual funding in order to draw conclusions about the present state of the optical networking market and its potential for growth in the next two years.
- Mary Jander, Senior Editor,
Light Reading
http://www.lightreading.com
Editor's Note:
Light Reading is not affiliated with Oracle Corporation.
PARTNER PERSPECTIVES
- content from our sponsors