After cutting its teeth on a proprietary whole-home networking platform initially focused on WiFi, Plume Design is shifting gears with an open source initiative that, it hopes, will spark further adoption of its approach by service providers even as it might create more competition for the vendor.
Plume Design Inc. has some big names on board for its OpenSync initiative, including Comcast Corp. (Nasdaq: CMCSA, CMCSK), Liberty Global Inc. (Nasdaq: LBTY) and Samsung Electronics Co. Ltd. (Korea: SEC), But it's now actively seeking to lock in support from a wider variety of service providers and device manufacturers. (See Plume, Samsung Debut 'OpenSync' Open Source Initiative .)
If the project is successful, it will help service providers open up their hardware ecosystems and also set the stage for an array of smart home services and apps that extend well beyond whole-home WiFi connectivity, according to Fahri Diner, Plume's co-founder and CEO.
Plume's proprietary platform has centered on two primary components – a device-level software stack for gateways, set-top boxes and other connected devices such as smart speakers, and a cloud network that manages the devices and elements such as service provisioning curation, service policies, tracking of performance data and in-home network troubleshooting. Under that approach, Plume's CPE stack has effectively operated like a SIM card that can only talk to the Plume network.
Plume says that's all changing. With the OpenSync framework, Plume is essentially morphing its proprietary Plum Middle Layer (PML) CPE stack into open source software and linking that stack to open APIs that allow that client software to speak to anyone's cloud, not just Plume's.
By attaching a BSD-3 license to the CPE stack, Plume says it is giving free access to the entire software source code. Others can step in and modify and improve the software so long as they feed that work back to the community.
Creating more cloud competition
Plume acknowledges that this open source move will also open the company up to more competition. But it believes that the benefits it will provide to the service provider community and an accelerated spread of its technology all outweigh that risk.
"In a way, we just made it easier for people to compete with Plume on a cloud basis," Diner said.
But he said the set-up, which extracts this software stack in to an open source component, is also poised to help service providers in part because it will unshackle them from their legacy hardware vendors and allow them to more easily mix and match a wider range of WiFi and smart home services across a heterogenous set of CPE. And the APIs will likewise allow those service providers to use Plume's cloud, a third-party cloud or even one that they develop on their own.
"The ultimate intent is for operators to curate and deliver services at a very, very rapid pace," Diner said.
Diner also stresses that the OpenSync project doesn't alter Plume's business. That business remains focused on selling subscriptions to its cloud platform, and not selling hardware. Plume licenses its hardware designs for WiFi "Pod" extenders to other manufacturers such as Sagemcom SAS .
Though managed whole-home WiFi has been Plume's calling card in the early going, Plume views that as merely a foundational starting point. Diner said it will pave the way for a mix of other curated services and apps that can be layered on top of that underlying platform, such as parental controls and IoT device security. "The game is just starting, in our view," he said.
Some of that work is well underway, as Plume's technology is tied into Comcast's xFI platform, along with deployments it has underway with BCE Inc. (Bell Canada) (NYSE/Toronto: BCE) and Liberty Global. (See Comcast Unlocks xFi-Powered Smart Home.)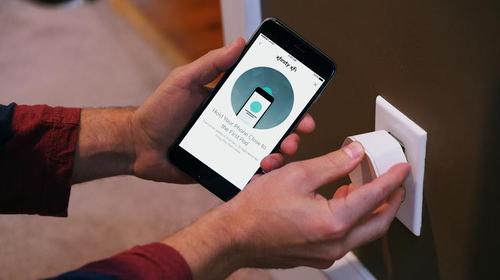 "What we have ultimately done is much bigger than WiFi or mesh WiFi in the home," Diner said.
Seeking broader adoption
But Plume also realizes that the initiative will need more scale and, therefore, more buy-in from other service providers and device makers.
On the device side, Sagemcom, CIG and SerComm Corp. are on board, as is Samsung, which is running OpenSync in its SmartThings IoT hub that was released earlier this year. Diner estimates that OpenSync is in at least 10 CPE platforms across various service providers. He said Plume expects to announce more device partners at CES 2019 in January.
"I would like to see OpenSync in a lot more devices," he said.
Diner also stressed that competition is expanding beyond broadband service providers as consumers seek out more cross-device experiences and as more services are decoupled from the data pipe entering the home. Web giants, such as Amazon.com Inc. (Nasdaq: AMZN) and Google (Nasdaq: GOOG), are also entering the home in a big way and using the smart speaker as their key launch point. Diner said those types of companies are also possible candidates for what Plume has in mind with OpenSync.
Among those that appear to be keeping OpenSync at arm's length early on is AirTies , which works with several service providers, including AT&T Inc. (NYSE: T), Midcontinent Communications (Midco) , Sky and Swisscom AG (NYSE: SCM). (See AirTies Hikes Hardware-Agnostic Path as Whole-Home WiFi Takes Off .)
"We're always evaluating and collaborating on ideas that benefit our customers," AirTies said in a statement. "Whether it's working with the Wi-Fi Alliance, RDK, or any new consortium, our plans our driven by our customers. At this point, it's a little premature to comment about this new initiative."
Diner said OpenSync is complementary to the Wi-Fi Alliance 's EasyMesh whole-home network program, which standardizes the "target layer" for communication with the silicon from various suppliers. He said the scenario is similar to the Reference Design Kit (RDK), the pre-integrated software stack for set-tops (RDK-V) and broadband gateways (RDK-B) managed by Comcast, Liberty Global and Charter Communications Inc. (See Open Source Opening New Doors for RDK, RDK Launches App Program for Service Providers and RDK Management clears path for apps on set-top boxes.)
— Jeff Baumgartner, Senior Editor, Light Reading