BT will build its next-generation 5G cloud core network on Canonical's OpenStack with Ubuntu Linux, a fundamental architectural decision for the carrier's multinational network, the two companies announced on Wednesday.
"This will ultimately be one of the foundations that underpins our network for the next five to ten years," says Neil McRae, BT Group's chief architect. BT now supports 30 million mobile and 10 million broadband customers and boasts some presence in a total of 180 countries, generating £23.4 billion ($29.1 billion) in revenues in its last fiscal year.
Canonical will provide the open source virtual infrastructure manager (VIM) as part of BT's network functions virtualization (NFV) program. But NFV is just the beginning -- a transition stage on the path to full, microservices-based, cloud-native network, McRae says.
"We're building a platform that internally we call Network Cloud, which is an elastic, scalable compute platform that we will use for both internal network demands but also use as our core edge offering in the future," McRae tells Light Reading.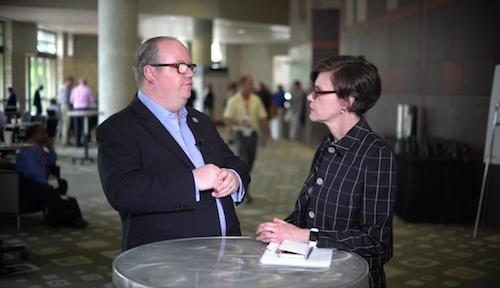 BT picked Canonical because it has a proven track record, McRae says. But he described that record as a "best-kept secret."
McRae says: "I'll be honest with you, when we started looking, in my head I had already ruled these guys out to some extent, because we had never really heard of them. Yeah, I'd heard of Ubuntu but beyond that, not a great deal. But in the trial and RFP [request for proposal] phase, it was clear that they had some very strong capabilities and very smart people, and shared the mindset that we had about really building a scalable platform in the middle of the network, close to the customer, that enables a platform for innovation and experimentation and consumption of compute in a way that it's really hard to do unless you're buried into the network."
The open source cloud-based approach will ensure BT can deploy new services quickly, and increase network capacity needed to meet customer demand driven by 5G and FTTP (fiber-to-the-premises) technology, the two companies said in a statement Wednesday.
The project goes beyond NFV. BT sees NFV as "helpful but not the end desire," McRae said. "Canonical is going to help us get to cloud-native across the network, leveraging OpenStack, leveraging Kubernetes, leveraging Linux, in a way that few others can do."
McRae is not an NFV enthusiast. "The way I look at VNFs -- and probably many of my colleagues won't agree with me but I don't really care -- I don't think it's the future," he says. "With cloud-native microservices, you get true scalability, true CICD [continuous integration and continuous delivery], a true pipeline of being able to deploy features, a true way of really changing from a rack-and-stack model to a cloud expansion model." Cloud-native, containerized architecture is required "in a world where the demands on the network are continually increasing," McRae says.
Kubernetes provides agility and OpenStack provides networking capability and support for applications that are not yet cloud-native, McRae says.
OpenStack will enable the separation of network hardware and software, turning core network components into software applications, able to be updated faster with continuous integration and development, the companies said. The separation will allow for more efficient use of network hardware, by allowing different network applications to share the same hardware, providing improved resiliency and scalability. BT expects to be able to build new services in days, rather than months and years (which is the common goal for operators implementing cloud software on their networks).
BT lit up its EE mobile network in six UK cities on May 30: London, Birmingham, Cardiff, Manchester, Edinburgh and Belfast.
BT's 5G roadmap calls for its cloud-based full 5G core to be introduced in 2022.
Higher bandwidth and lower latency will allow BT to deliver a more responsive network for new applications including mobile augmented reality, real-time health monitoring and mobile cloud gaming. BT also sees the 5G core as an essential step in converging fixed, mobile and WiFi into a single customer experience.
"BT's 5G core will be built on Canonical's Charmed OpenStack, and utilize Canonical's open source tools to automate the deployment and operations of their infrastructure. To deploy the virtual infrastructure manager (VIM), BT has adopted Juju and Charms for a model-driven architecture to onboard virtual network functions (VNFs) applications, while MAAS is used as the cloud provisioning tool. BT's 5G core will be backed by Ubuntu Advantage for Infrastructure for the ongoing management and support of operations," the companies said in a statement.
Mark Shuttleworth, founder and CEO of Ubuntu, tells Light Reading he is "delighted" by the deal. "This is the first time in a while that a significant European telco has come to market looking for a next-generation infrastructure," he says.
Canonical has a "strong track record in telcos," he says, with deployments at AT&T, Telefónica, Deutsche Telekom and NTT, Shuttleworth says.
The Canonical deal comes as OpenStack growth slows. "This is a shot in the arm, for one of the major European carriers to get behind not just Canonical, but OpenStack overall," says Jennifer Clark, an analyst with Heavy Reading, a sister company to Light Reading. "We're not seeing traction in the enterprise growing, but there is still a lot of support for OpenStack in the carrier universe."
Interestingly, no individual vendor has come out as a winner in the OpenStack market: Canonical, VMware, Mirantis and Red Hat are all credible competitors, Clark says.
It's been a big month -- and year -- for carriers making strategic transitions to cloud and virtualization foundations. Just last week, AT&T announced two big deals: with Microsoft, to move its AT&T Communications non-network functions to the Microsoft Azure cloud, and collaborate with Azure on delivering edge services; and with IBM in a similar arrangement for AT&T Business, serving enterprise customers. Previously, AT&T signed an "eight-figure" Kubernetes and OpenStack deal with Mirantis, to build out AT&T's 5G network, Mirantis said in February.
Turkcell, with more than 35 million subscribers in and around Turkey, is working with Red Hat to implement OpenStack as a foundation for NFV to virtualize 40% of its network this year. And Equinix is building out a global NFV infrastructure to serve both enterprises and carriers.
Related posts:
— Mitch Wagner




Executive Editor, Light Reading