BURLINGAME, Calif. -- Next Generation Optical Networking (NGON) -- The future for service providers seems to be a mixture of open source software and good old standardization, which means vendors are going to have to get used to the open source way of life, one AT&T executive believes.
AT&T Inc. (NYSE: T) does still need vendors to play the role of technology innovators. But "the way that vendors provide that in the future will be different from how they provide that today," said Amy Wheelus, AT&T's vice president of cloud and D2 platform integration.
Wheelus's comment came during an NGON session yesterday that focused on the role of open source technologies. It was set up as a debate, with Wheelus -- who oversees AT&T's OpenStack deployment -- championing open source while Roderick Dottin, project manager for fiber collocation at Orange (NYSE: FTE), argued in favor of a more standards-based approach. (It wasn't that contentious -- more about the results in a bit.)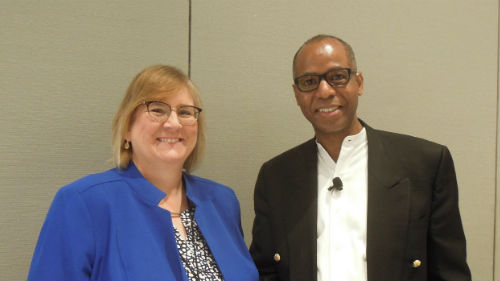 From that discussion sprang the question of how vendors are supposed to make money in an open source world. Open source software is fueling some high-profile startups such as Docker Inc. , it's true. But only Red Hat Inc. (NYSE: RHT), has built a long-term business out of open source.
Hence, Wheelus's comment.
"I'm probably not willing to go backwards and start buying proprietary boxes from vendors, but I still need vendors to help drive the technology evolution," Wheelus said.
For starters, vendors could become more like systems integrators. "That's one of the things that's kind of broken in this new world," Wheelus said.
AT&T, for example, uses an OpenStack distribution from Mirantis Inc. and still enlists the vendor's help with the software. The rise of white box systems -- in switching and possibly even in areas such as optical networking -- would call for integration help as well.
Even in providing virtualized network functions for NFV, vendors could play a role -- provided they take a different approach. "Are they truly building virtual functions that are cloud-native and take the best advantage of cloud capabilities?" Wheelus said.
Open Source vs. standards
As for the debate between open source and standards, the results were anticlimactic. The point was to have Wheelus and Dottin present separately, then have the audience vote. But hardly anyone voted for either talk.
Instead, the overwhelming majority of attendees favored a middle ground -- a world full of open source software, with standards bodies setting certain conventions in stone. It might have helped that both speakers, Dottin especially, alluded to this hybrid approach.
Orange has been one of the most enthusiastic carriers when it comes to following the lead of AT&T's ECOMP, so it's not as though the French carrier is anti-open source. Dottin's point had more to do with the optical realm, where open source discussions are "concentrating too much on the form factor," he said. "What is missing from this argument are the underlying mapping requirements."
His concern was around the aggregating of optical tributaries, of disparate origins, into common transport pipes. Open source optical work hasn't involved a detailed look at the mapping that has to happen when aggregating pipes. That's the kind of rigor that groups like the IEEE and ITU are good at, and they're also diligent about planting interoperability into their standards, he said.
— Craig Matsumoto, Editor-in-Chief, Light Reading