Linux Foundation Re-Orgs to Simplify Open Source Networking
The Linux Foundation is restructuring its operations to better coordinate the activities of multiple open source networking projects that impact the telecom space, including OPNFV, ONAP and OpenDaylight.
The new structure is aimed at "harmonization" of six open source projects with similar goals, to eliminate any overlap or redundancy and create more efficient processes that will speed up their work, says Arpit Joshipura, general manager of networking and orchestration for the Linux Foundation . A new combined administrative structure called The LF Networking Fund or LFN, will provide a platform for collaboration across the projects, while allowing each to retain technical independence.
LFN has its own membership of 83 companies, including the platinum members shown below.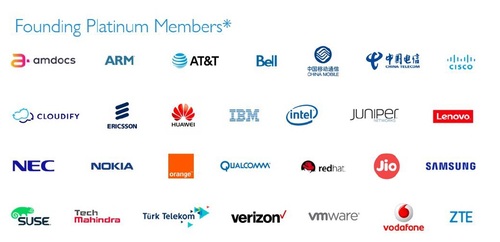 "Over the last five years, open source has picked up steam significantly and as specific use cases or problems arose, multiple single projects were created, and they have been deployed and have had momentum, " Joshipura says in an interview. "Now there is an architectural discussion going on across projects and there is a need for looking at all these components from a solution perspective."
The new structure also addresses growing concern that the proliferation of open source groups was beginning to tax the resources -- money and people -- needed to support the growing number of individual operations. Members now pay one membership fee to belong to LF Networking.
"Now that the governance is integrated, a company just has to become a member of one body -- LF Networking -- and they become part of all six," Joshipura says. "If they only want to participate in one or two, they at least get the cross-platform synergies. And from a membership perspective, there are no six board meetings and no separation of individual decisions."
Under the new construct, there will be a LFN governing board under the Linux Foundation governing board, and the six individual project Technical Steering Committees (TSCs) sit below that, with each being represented on the LFN board. In addition to Open Platform for NFV Project Inc. , Open Network Automation Platform (ONAP) and OpenDaylight , the other three initial projects are Fast Data Project (FD.io) , PNDA and Snas.io. LFN members can participate in any of the six member projects, and work of the projects in similar areas will be coordinated.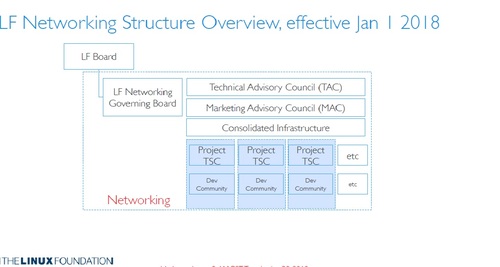 Joshipura cites virtual network function onboarding as one example of an area in which at least two projects -- ONAP and OPNFV -- have ongoing work. ONAP has created a set of guidelines and software development kits (SDKs) for VNF onboarding, as well as some test automation scripts, he notes.
"OPNFV has a project that basically takes one step further, cutting across testing and automatic scripting and allowing VNF vendors to look at the entire stack to get to a to a certification level," Joshipura says. "Now if we combine the two, you have everything from initial SDKs and development to the interface aspects through SDK and VFN guides plus testing and the automation of VNF test cases, plus certification. The full lifecycle management of VNFs is synchronized."
---
You're invited to attend Light Reading's Big Communications Event – the ONE event that delivers fresh perspective on the rapid transformation of the telecom industry and the road ahead. We'll see you May 14-16 in Austin – communications service providers get in free!
---
Joshipura believes the new structure also benefits vendor members of LF Networking by speeding up the pace at which open source technology can be commercialized for distribution, which is the way most network operators are consuming open source today.
— Carol Wilson, Editor-at-Large, Light Reading
PARTNER PERSPECTIVES
- content from our sponsors