LOS ANGELES -- A new Linux Foundation white paper written by ACG Research says a "massive shift" to open source is underway within the carrier community and is creating opportunity for vendors who embrace open source as well to participate in an $11 billion market by 2023.
Much of that growth is coming in network control and orchestration software, but the edge is also booming, according to ACG. The network control and orchestration software markets will double in size by 2023, according to a blog written on the report, while edge networking will increase by more than 100% year over year in that time period. That creates the $11 billion market, with $7 billion of that in hardware alone, according to the white paper, which you can read here.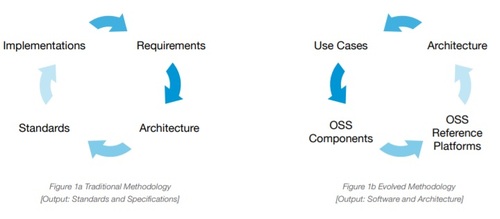 The purpose of the LF-backed report was to analyze the impact of open source software on vendors and network operators alike, and it found that both sectors of the telecom industry stand to benefit.
"Open source is a critical driver for change and the catalyst for digital transformation underway at many operators," the white paper states. "It offers compelling benefits to both operators and vendors--perhaps most importantly, the collaborative innovation that only a diverse community can provide."
"One of the key takeaways is that the market for control and orchestration is really going to double in the next five years and open source will be the default choice for operators," says Arpit Joshipura, general manager of Networking and Orchestration at Linux Foundation. "Vendor partnerships and embracing open source will be part of the solution; those who stay proprietary will have a challenge. That is the key takeaway."
The white paper, which includes interviews of network operators, shows the infrastructure mix is shifting slowly toward software, with hardware sales declining 3% per year to hit 72% of the total data center networking infrastructure spend in 2023. At the edge of the network, spending for mobile edge computing and conversion of Central Offices to data centers a la CORD is expected to increase by four to five times over the next five years. And in that market, almost all new revenue growth will come from software, the report states.
---
Light Reading is bringing together all of the key players in the automation revolution for the first time at Automation Everywhere on April 4 in Dallas. Join us as we tackle the business and technology challenges behind driving network automation. The event is free for communications service providers -- register today!
---
In the same period, hardware will shift from existing vendors to open source hardware, including merchant-silicon, as the latter increases from 5% of revenue to 35%, and existing hardware sales decline from 70% to 52% of total revenue, according to the report.
The report notes that many startup vendors are embracing an open source approach but admits the outlook at existing vendors is "more complicated." As noted in a Linux Foundation blog on the report, these companies "recognize that their carrier customers are focused on software and open source," but don't see open source as strategic to their own future.
The Linux Foundation white paper concludes, however, that to stay relevant, vendors must move in this direction. And it expects "at least 35% of even commercial hardware portfolios to be white-box/merchant silicon-based by 2023, with the vendor/brand value locked in the NOS," according to the Linux blog.
— Carol Wilson, Editor-at-Large, Light Reading