Facebook's TIP Expands Its Influence, Except in the US
SANTA CLARA, Calif. -- Telecom Infra Project 2017 Summit -- The Telecom Infra Project (TIP) is spreading its wings into areas such as artificial intelligence while also being invited into even more areas by service provider members.
The engineering-focused initiative, founded by Facebook , welcomed almost three times as many people to its second Telecom Infra Project (TIP) Summit here this week (full disclosure: I'm here to emcee the event) compared to last year. TIP used the first day to tout new projects in artificial intelligence/applied machine learning, OpenRAN (radio access network) and end-to-end network slicing. The event expo featured, among other things, ten startup companies funded through its TIP Ecosystem Acceleration Centers (TEAC), which are attracting hundreds of millions in venture capital money to bring technology to market faster. (See TIP Touts Progress in Mobile & Optical, BT Kicks Off TIP Startup Selection Process and Deutsche Telekom Unveils 3 TIP Initiatives.)
TIP is living up to its "infrastructure" moniker as well, with Facebook leading the way, partnering with operators to build fiber optic infrastructure in Uganda and explore ways to better serve rugged rural areas of Peru. Those projects then become field proving grounds for initiatives such as TIP's OpenCellular and mmWave Networks Project Group, as well as Facebook's high-definition population density mapping, said Jay Parikh, head of engineering and infrastructure for Facebook, in his keynote yesterday.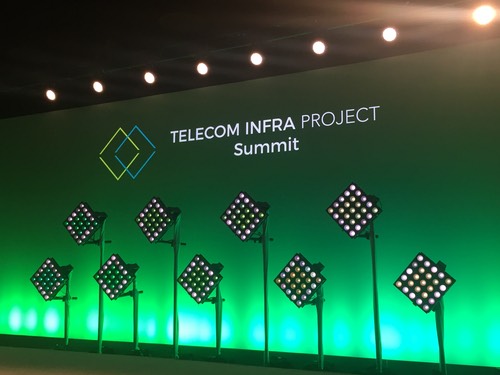 TIP is even getting into nitty-gritty issues such as powering remote wireless facilities, a thorny issue in undeveloped areas where there is no commercial power grid, Parikh said. He told the Summit crowd that the Facebook team has developed a power solution for OpenCellular that features an open hardware platform, open software specs and the ability for multiple types of power - solar, battery or utility-provided, in addition to remote manageability and configurability.
In a presentation that closed out the first day's program, Tareq Amin, senior vice president, Reliance Jio Infocomm, said he is hoping to get TIP involved in what he called Open FCAPS, which would bring the engineering consortia right into the operations heart of the telecom industry, where many open source groups are already focused. FCAPS stands for Fault, Configuration, Accounting, Performance and Security, and it is the model set up for network and service management by the ITU-T.
There's one place where TIP is not making headway, however: in attracting US carriers to its fold.
BCE Inc. (Bell Canada) (NYSE/Toronto: BCE) is the only North American telecom carrier among its 500 members. Equinix is a member; so is CableLabs , which yesterday was announced as a new TIP Community Labs site, along with Deutsche Telekom AG (NYSE: DT), which is testing Facebook's Terragraph mmWave system in Berlin, and Bharti Airtel Ltd. (Mumbai: BHARTIARTL), which opened a lab in India. (See CableLabs Opens New TIP Lab.)
---
Want to learn more about the technology and business opportunities and challenges for the cable industry in the commercial services market? Join Light Reading in New York on November 30 for the 11th annual Future of Cable Business Services event. All cable operators and other service providers get in free.
---
European carriers dominate TIP at present. BT , Vodafone Group plc (NYSE: VOD) and Telefónica joined the board of directors this fall, and BT, Orange (NYSE: FTE) and DT have all opened or will soon open TEACs to work with startups. Orange and Vodafone are among the growing group of operators testing Facebook's Voyager open optical platform that is now part of TIP's Open Optical Packet Transport group.
For the immediate future, Parikh said, TIP is firmly focused on accelerating deployments and scalability on all fronts, which is why Facebook is willing to dig in and get its hands dirty putting fiber optical cable in Uganda -- where the job proved harder than expected -- and is working with Telefónica in Peru to use its data mapping to identify population density to better direct deployments.
"We really need to get stuff into production, we need to learn from this, we need to get data, we need to get feedback, and we need to iterate faster and faster by trialing this stuff out," Parikh said. "And we need to figure out what deployment, business, operational models look like. It is still very early, this industry does not move lightning-fast, but we are going to try to change that with what we are doing in TIP."
The Facebook executive also stressed his company's experience in things like this, pointing to what it is doing with the Open Compute Project . Tom Anschutz of AT&T Inc. (NYSE: T) will be on hand today to update that group's activity and the Telco group within OCP. (For a possible preview, see this video interview from October.)
For Facebook, Parikh stressed, the goal remains universal connectivity -- getting the Internet, and by extension Facebook, to the places it doesn't reach now. Thus the focus on wireless technology, and then scaling network backbones and backhaul to deliver more capacity and new services faster and more efficiently.
— Carol Wilson, Editor-at-Large, Light Reading
PARTNER PERSPECTIVES
- content from our sponsors