MEF CTO: We're Living Up to Agile Promises
LOS ANGELES -- MEF18 -- MEF has transformed the way it is working, cutting its years-long specification processes down to months, exposing specs-in-progress for public comment earlier in the process and generating software artifacts and not just paper specs, CTO Pascal Menezes said here today.
As a result, the standards development organization is living up to his promise to be "agile and scrappy," and behave less like a non-profit and more like a software development business, Menezes told the audience here, many of whom are MEF members.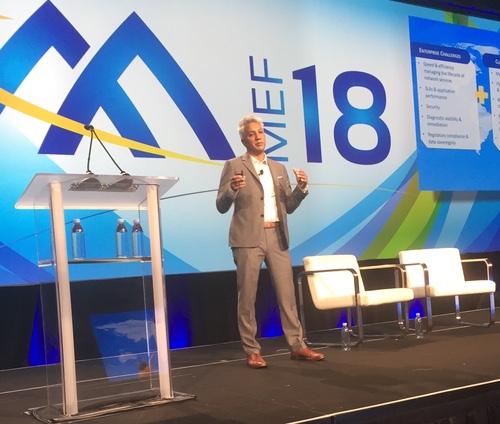 The more agile process is being implemented at a time when MEF is also tackling a much broader range of services well beyond its original Carrier Ethernet, and Menezes admits that's "a big mission." MEF is now taking what it learned from developing Carrier Ethernet standards and focusing on cloud-native services, which he defines as "these kind of services that are cloud-ready and have built-in orchestration capabilities."
"MEF has the credibility and track record and we will apply that rigor and gold standards to the rest of the services," he said. That includes defining services and enabling interconnection with automation for those services, which is "something that we are really good at."
While MEF is taking on a much broader range of services, Menezes stressed that the organization "isn't trying to boil the ocean. We're very methodical and surgical in what we choose to work on," and much of that focus is on the APIs either north-west internal to a carrier or east-west between carriers.
As part of the new iterative process, early learnings from proofs of concept, which are based on implementations by MEF service provider members, are fed into the specification process and draft specs are shared earlier to enable developers to offer feedback and improvements, he said. When the specs are released, they are done in software, as a developer release with a software development kit.
"We've gone past paper we are an organization involved in software," Menezes said. "We are not going open-source, but we do have software artifacts. With [LSO APIs] Sonata and Presto, you can download the software release; you can take specifications which describe the business use case, the object models. We have an SDK that has data models and languages and tools that [software developers] understand and we have developer guides to walk them through it. It's a really great turning point for MEF."
MEF is also addressing other issues, offering cloud-based certifications and working with aggregators -- he cited Epsilon Communications and Neutrona Networks as two -- to be able to support smaller network operators who lack the resources and personnel to directly absorb the MEF work.
Menezes repeated his opening press conference theme that MEF's work is very real-world and not "pie-in-the-sky," clearly wanting to drive home that this is not your grandfather's MEF.
— Carol Wilson, Editor-at-Large, Light Reading
PARTNER PERSPECTIVES
- content from our sponsors