Recently, Omdia released the 100G+ Coherent Optical Equipment Ports – 1Q22 report, which estimates the shipments of 100G and higher-rate ports in the wavelength-division multiplexing (WDM) market. According to the report, the shipments of 400G-ports are increasing rapidly, while Huawei leads the global 400G WDM market with a share of 35% in the first quarter of 2022.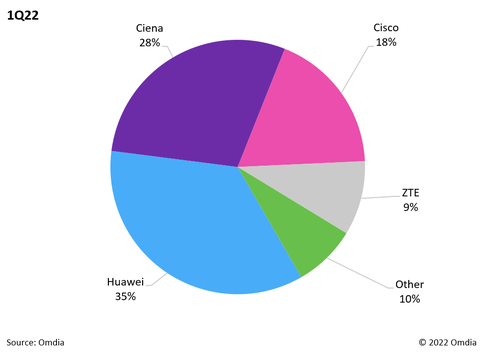 As more and more industries go digital, higher-rate optical transport technologies can better meet operators' network requirements. Omdia's report fully aligns with this trend. In 2020, the WDM market saw 200G-port shipments exceed 100G-ports for the first time, making 200G the mainstream solution. Now, 400G-ports are taking up a slice of the market, albeit far less than 200G-ports and 100G-ports. 400G-port shipments increased somewhat in 2021, with significant growth so far in 2022. Omdia predicts that the compound annual growth rate (CAGR) of 400G-port shipments in the WDM market will reach 31.5% in the next five years, with 400G taking the mantel of the mainstream choice.
In the report, Omdia also compares the market shares of global WDM vendors based on port rates. Huawei ranks No. 1 in terms of market shares in the mainstream 100G, 200G, and 400G WDM markets, with shares of 21%, 38%, and 35% respectively. This demonstrates Huawei's technological leadership in the ultra-high-speed transport network field and highlights the recognition that Huawei's solutions have received from global operators.
During the Next Generation Optical Networking (NGON) Forum 2022 held in Barcelona, Spain last month, Huawei showcased the ultra-long haul transmission capability of 400G in scenarios with a transmission distance of more than 6,000 km to hundreds of operators and industry analysts from around the world. This technical breakthrough will greatly reduce per-bit transmission cost and energy consumption, helping customers cut cost and reduce their carbon footprint.
Looking ahead, Huawei will continue exploring the ultra-high-speed optical transport field and making more innovations. Huawei will also continue working closely with customers and industry partners to promote the evolution of optical transport networks to higher rates such as 800G and empower operators on their digital transformation journey.
This content is sponsored by Huawei.