ANAHEIM, Calif. -- OFC 2002 -- It's hard to make optical transponders sound sexy, but several companies at the Optical Fiber Communication Conference and Exhibit (OFC) are trying.

Agere Systems (NYSE: AGR) and Agilent Technologies Inc. (NYSE: A) are among the companies with significant transponder-related news coming out today (Monday, March 18). Others, including Ignis Optics and Vitesse Semiconductor Corp. (Nasdaq: VTSS), made key announcements just prior to the show.

Of course, the fact that many people are not even sure what a transponder is works against these companies' efforts to drum up enthusiasm for their latest products. Confusion arises because the terms transponder and transceiver are often used interchangeably, but, strictly speaking, they refer to different things.

Put simply, a transceiver takes in a serial electrical signal (one at full line rate) and converts it to a light signal. It also contains a detector and associated electronics to perform the reverse function.

A transponder is a transceiver with an electrical mux/demux on the front end, which breaks out the serial signal into parallel, lower-speed electrical channels. Xenpak transponders, for example, send and receive 10-gig Ethernet data via a parallel interface called XAUI (4x2.5 Gbit/s).

Here's Light Reading's summary of the key trends in optical transceivers and transponders as they relate to OFC product announcements:

Pluggable Agilent today is taking the wraps off what it claims is the industry's first "hot-pluggable" DWDM transceiver (see Agilent Gets Hot-Pluggable). Hot pluggable means that the modules can be connected and disconnected from the equipment without having to power it down.

"Up until now, all DWDM modules were pigtailed components that are pin-through-board mounted," says David Chown, general manager for Agilent's telecom fiber optic components business unit. But, as short reach and enterprise optics have done, he thinks that ultimately all long-haul optics will go pluggable. Being pluggable is a good idea for the systems vendor, because it makes the board easier to manufacture and helps cut down on inventory costs. It's also quite attractive to service providers, because it allows them to light up new channels or replace defective modules without having to turn off services to other customers.



"You often find the wavelength channels needed to ship with the system are specified at the last minute," says Chown. "So if you can plug modules in at the last minute it really eases the inventory requirements."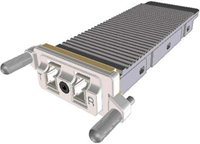 Agilent won't be the only vendor creating hot-pluggable DWDM transceivers. It is hammering out the details of a multisource agreement (MSA) with other transponder vendors, but their names won't be revealed until the MSA is announced.

The initial product, when it ships in Q3, will be an OC48 (2.5 Gbit/s) transceiver with a reach of 160 km, available in 100GHz channel spacings. Agilent plans to add to the product line with 50GHz channel spacings, reaches up to 300 km, and -- eventually -- OC192 (10 Gbit/s) data rates.

Ignis Optics, a startup that will debut at the OFC show, also thinks pluggable DWDM modules are the way to go (see Ignis Makes Price Promise).

Better Optics

Another big player in the transponder market, Agere, today announced new transponders capable of sending signals up to 40 km using uncooled 1310nm lasers (see Agere Intros Transceivers, Transponders). Previously, uncooled lasers could only reach distances of 10 km. Going beyond that distance required cooled laser technology, which is more expensive and -- this is the rub -- uses more electrical power.

"There could be a difference of three watts between cooled and uncooled laser technology," says Julie Sheridan Eng, a product marketing manager at Agere. "Customers are talking about stacking multiple Xenpak's per blade, so a saving of three watts is very significant."

Agere is releasing two products incorporating its 40km uncooled laser technology -- a Xenpak transponder for 10-gigabit Ethernet and a 300-pin MSA-compliant OC192 Sonet transponder.

Competitors seem to agree that going 40 km with an uncooled laser is quite an achievement. Agilent has an uncooled laser Xenpak module, which it released about six months ago (see Agilent Boosts 10 Gig Ethernet ). Agilent claims its uncooled lasers have reached 20 km in the lab, but the company only offers 10 km as a product.

"From my knowledge [going 40km] is very difficult to do," says Shuo Zhang, a product marketing manager for the networking solutions division of Agilent. "If it is true, then it would be a major milestone." Agere wouldn't comment on how it made the advance, other than saying that sending the signal farther requires more output power from the laser.

Vitesse also claims to be pushing the envelope on the optical technology inside its transponders -- technology it acquired with its acquisition of Versatile Optical Networks last year (see Vitesse Enters Optical).

For example, improvements in the sensitivity of its 10-Gbit/s optical receiver gives an increase in system margin of 6 dB, according to Amit Jain, founder of Versatile, and now head of Vitesse's optical systems division. This means light can go farther before it needs amplifying.

OpNext Inc. has announced a 10-gig transponder with an advanced avalanche photodiode (APD) detector inside (see OpNext Unveils Transceiver). Smaller

Size matters. At least it does for high-density line cards. At OFC, several companies will be demonstrating ultra-small transceivers for the first time.

Finisar Corp. (Nasdaq: FNSR) is planning to show the first prototypes to comply with the XFP MSA (see Finisar Debuts Tiny Transceiver). Targeting the same applications as Xenpak, the XFP MSA specifies a form factor that's 80 percent smaller, which could end up making it more popular (see Sizing Up Xenpak ).

"The XFP modules have the small size and low power dissipation required to implement up to sixteen 10 Gbit/s ports on a typical line-card," claims Christian Urricariet, director of product marketing at Finisar's optics division.

Also at the show, NEC Compound Semiconductor Devices Ltd. and Sumitomo Corp. will be showing 10-Gbit/s transceiver modules that comply with the new MSA they announced last week (see NEC, Sumitomo Partner on 10-Gig). The form factor, which doesn't appear to have a name, measures 9.8mm long by 7.5mm wide by 4.0mm high. How many of those would fit on a line card?

It is worth noting that part of the reason it can reach such tiny sizes is because it is only a transceiver -- transponders are bigger because they contain more electronics. But this can't be the complete answer -- Agilent's new hot-pluggable DWDM transceiver measures 95mm long by 17mm wide by 12.9mm high, making it a monster by comparison.

— Pauline Rigby, Senior Editor, Light Reading
http://www.lightreading.com For more information on OFC 2002, please visit: www.nottheofc.com