What sort of message does it send when a company sends its entire OFC delegation along, uninvited, to a press junket, apparently so that they can pull up a chair to the free buffet and get a hot meal?

We don't know, but Teem Photonics probably does. Teem's appearance at the party brought dust bowls, depression eras, and families called Joad to mind. Are they based in Oklahoma? Are they travelling to California in search of better times? Are they planning to change their company name to Hobo, Inc.? Go Teem! No, really. Go. Now. (Not the two charming women pictured front and center, mind you. Jenny Gilcrest and Cathy Summers hail from the Ardell Group. They were most certainly invited, though they seem to have been boxed in by the wrong crowd.)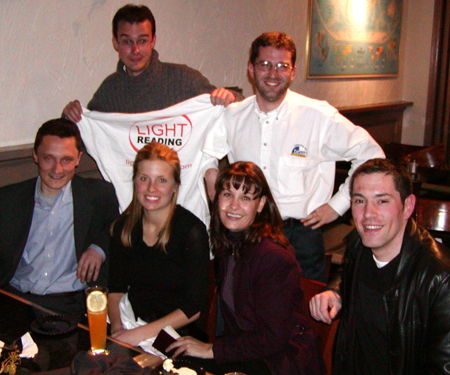 Whoa. What's this? Did Light Reading's VP of sales just throw a gang sign? Pictured with John are some folks from (The Missing) Lynx Photonic Networks, a Precambrian-era manufacturer of optical caves.