Greg Nulty, the senior VP of technology planning for Tellabs Inc. (Nasdaq: TLAB; Frankfurt: BTLA) in North America, has resigned and his last day will be tomorrow, Tellabs officials say.

Nulty worked for Ed Kennedy, the former president of Tellabs North America who was being considered for the company's CEO job before he resigned last month. Like Kennedy, Nulty came to Tellabs two years ago through its acquisition of Ocular Networks, and he was based in Tellabs' Ashburn, Virginia office (see No Naperville for Kennedy).

Since joining Tellabs, Nulty had moved from being the VP of product line management for the company's metro networking group to taking a role in which he was responsible for Tellabs North America's technology and product direction.

Rather than filling his shoes, Tellabs says it will split his duties between Stephen McCarthy and Jeff Schmitz, the senior VP of operations and the senior VP of product line management, respectively, for Tellabs North America.

"Ed made his decision to remain in the D.C. area and Greg's departure springs from that," says Tellabs spokesman George Stenitzer.

Though it has seen two big executive departures in just a few weeks, the company says there are no plans to make changes to the Ashburn office. Ashburn houses 200 of Tellabs' 3,300 worldwide employees.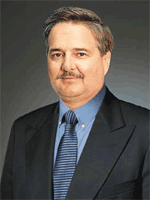 Whatever the leadership spread at Tellabs, it's clear that the star of the new products has lost a bit of luster lately. During its last conference call, Tellabs executives said sales of its 5500 NGX, 6500, and 7100 boxes only accounted for about 2 percent of the quarter's sales. Instead, the company relied on revenues for voice-quality enhancement (VQE) products (formerly known as echo cancellers) and other related products to carry the quarter, thanks to their use in VOIP networks (see Tellabs Has a VOIP Secret ).

The company's product direction – with a marketing push into data networking – may be in the works as soon as the new CEO is named, say sources close to the company. Tellabs' data networking solutions are featured prominently on its Web page at the moment, absorbing some of the spotlight that used to be aimed squarely on the optical networking business.

The early attempt to head that way was in Tellabs' merger talks with AFC, which took place a while ago (see Tellabs Angling for Access – and AFC). Tellabs isn't saying anything new regarding its CEO search. In late January, during its earnings call, Tellabs chairman Mike Birck said that the company was looking at both internal and external candidates and would likely have the slot filled by the end of February. One source close to Tellabs says the company has narrowed the search down to two candidates.

"It wouldn't surprise me if they named an insider as CEO," says industry analyst John Celentano, president of Skyline Marketing. Those that might be close enough to the top to take the job include Tellabs International president Anders Gustafsson; Stephen McCarthy; and Robert Pullen, the senior VP of North American Sales, according to Celentano and a financial analyst who required anonymity.

— Phil Harvey, News Editor, Light Reading