4:30 PM -- Ah yes, time to dip back into Light Reading's enormous, unexpurgated, rancid PR poubelle. Here's a release that was mailed (emailed, that is) to us today:
NEW honors Dan Abraham on diversity
Garb-Ko executive receives Hedy Halpert Award SALT LAKE CITY -- The Network of Executive Women has awarded its 2005 Hedy Halpert Diversity Awareness Award to Daniel Abraham, president and CEO of convenience store operator Garb-ko, Inc., and past president of the National Association of Convenience Stores.

Abraham was recognized for being "an ardent supporter of women in the convenience retailing channel." The outgoing NEW board member received his award in front of hundreds of industry executives August 9 at the Outlook Leadership Summit in Salt Lake City.


Now, first of all, Light Ranting commends Daniel Abraham and his winning of the esteemed Hedy Halpert Award, the results of which we've been eagerly awaiting all year. And Garb-ko Inc. is one of our most respected purveyors of Slurpees, Twizzlers, Ding-Dongs, or whatever the heck is it they sell (Light Reading editors will be sure to consider Garb-ko Inc. for the next Top Ten list).

But isn't there something just a teeeeeeny bit fishy going on here? First of all, there's the dateline: SALT LAKE CITY. Isn't it a bit strange that an award commending diversity and support of women was handed out in a city that's about as diverse as a Pat Robertson rally in Idaho -- and where they, in fact, still practice POLYGAMY!?

Now, let's have a look at Dan himself...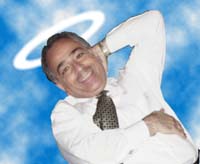 Yes! Dan is the man. In fact, Dan is a man. Yes, the "ardent supporter of women in the convenience retailing channel," is, as we suspected, a 50-something-year-old white guy in a tie! We're sure he has only nice things to say to the women who work for him. And, if we're not mistaken... has Dan actually got his feet up on the desk?

Now, that's progress!

— R. Scott Raynovich, US Editor, Light Reading