Nortel Shares Fly South
Shares of
Nortel Networks Ltd.
(NYSE/Toronto: NT) continued to slide days after the networking equipment vendor fired its chief executive and dropped the bombshell restatements that will erase hundreds of millions of dollars in reported profits (see
Nortel Fires CEO
).
Nortel's shares were down $0.08 (2.08%) to $3.77 in late afternoon trading on Friday -- down 34 percent since the close of business on Monday (see
Nortel Stock Dives on Dunn Downfall
). The share softness is understandable, given all the questions Nortel must address in the days ahead. "Financial accountability will become our watchwords," its new CEO, Bill Owen, said on Wednesday. And investors seem anxious to hold his feet -- or
anyone's
, really -- to the fire as class action securities suits start showing up. What happened to send Nortel spiraling? Several theories abound, a popular one being that the company's controversial "return to profitability" bonuses sparked a wave of greed and cover-up. "We think the profitability bonus was likely the seed that gave incentive to executives and started the process of manipulating revenues and expenses at Nortel, a slippery slope that led CEO and former CFO Frank Dunn and CFO and former Controller Doug Beatty to attempt a proactive restatement in October after profitability bonuses had been paid out," writes
Legg Mason Inc.
analyst Timm P. Bechter, in a note to clients (see
Nortel Silent on Baffling Bonuses
).
What happens next for Nortel is a bit up in the air. Naturally, the company will try to bolster its credibility, as it has already with new executive and board appointments (see
Nortel Names New Board Member
). For the time being, though, all eyes will be on the filing of Nortel's next 10-K (detailed annual report) with the
Securities and Exchange Commission (SEC)
, which should disclose what bonuses were paid and where the mysterious "proactive" profits came from. This won't come right away, as Nortel is entangled in reviews by its Internal Audit Committee, its external auditors, securities regulators, and lawyers galore. But Nortel musn't take too long, cautions
Desjardins Securities
analyst Paul Howbold. "We would note that investor concern will likely intensify if this [the 10-K filing] has not occurred by June 30," he writes in a report to clients.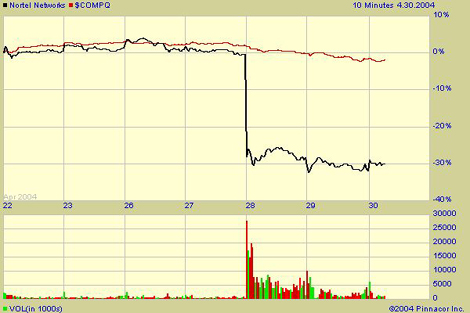 — Phil Harvey, News Editor,
Light Reading
PARTNER PERSPECTIVES
- content from our sponsors