Nortel Puts On a Brave Face
Not much news surfaced from
Nortel Networks Corp.
(NYSE/Toronto: NT) during the company's investor conference in New York City this morning. Indeed, management appears to be basing its hopes on little more than gut-level predictions.
After opening remarks in which he refused to take any inquiries about CFO Terry Hungle's resignation last night (see
Nortel CFO Leaves After Probe
), CEO Frank Dunn reiterated his quarterly guidance that revenue for the present Q1 2002 would fall an estimated 10 percent sequentially (see
Nortel: Still Shrinking
). He also restated his belief that revenue growth will pick up during the second quarter and that by the fourth quarter, Nortel will return to profitability.
Unfortunately, Dunn doesn't seem able to back up his hopes for renewed growth with anything concrete. Efforts to press him were met with nondescript answers. And, toward the end of the conference, he appeared flustered when ask by one analyst to nail down figures as to exactly how Nortel plans to grow, given its current financials. "I'm not going to go line by line in this forum," he said. At another point, when asked for specifics on carrier capital spending: "I don't know. I don't think anyone in this room does know."
Dunn was stubbornly optimistic. "The last 25 days have been tougher than ever for short-term spending. But looking out to the fourth quarter, I feel more encouraged than I did 25 days ago." Carriers are increasing their activity level, he says. "I'm positively disposed to Nortel making money sometime in 2002... Do I see the specific number? No. Do I see the activity level that will put us above breakeven? Yes."
Analysts attending the conference pointed out that Nortel's predictions appear to contradict the trends indicated by other key vendors, most notably
Corning Inc.
(NYSE: GLW). Last week, Corning said the capex downturn has hit bottom, but no uptick's in sight (see
Corning: 'We've Hit Bottom'
). Corning also estimated fiber growth would be 15 percent sequentially for the upcoming quarter and that the China market is in a state of suspension due to internal forces.
"Doesn't fiber lag equipment?" one analyst pressed. "It's incredibly confusing."
Nortel execs said equipment buildouts typically lag fiber ones, and Dunn downplayed the reduction of activity in China -- due in part to reorganization of
China Telecom
-- as "a bump in the road."
Nortel appears to be basing its hopes of recovery on its product plans, which include the general availability of the company's long-awaited OPTera Connect HDX platform by midyear. This is the product that's meant to compete against the CoreDirector from
Ciena Corp.
(Nasdaq: CIEN) and deliver the sizeable reduction in carrier operating costs that Nortel says will drive its own volume up.
Execs said the HDX is in "a couple of customer labs" and that several other carriers are set to evaluate it. Once it becomes generally available by the end of the second quarter, they hope it will start generating significant revenue. But again, nothing is guaranteed. The significance of revenue will depend on how much carriers spend.
The company also is banking on the emergence of its wireless 3G products in midyear, and it is emphasizing the growth of sales in the enterprise space as well as among top carriers. In general, it sees ongoing increases in market opportunity, driven by carrier need to accommodate growing demand for data networking.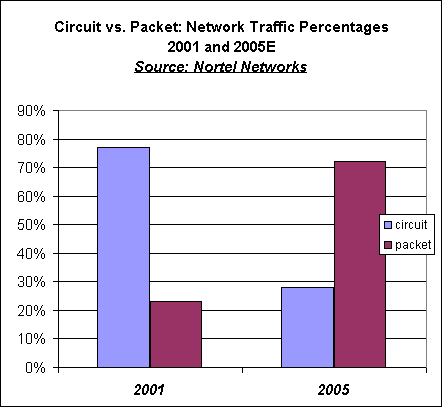 Dunn reiterated Nortel's restructuring efforts. He said the company has increased its cash balance from $1.6 billion to $3.5 billion since 2000; has cut net inventory days by 27 percent; and has reduced its total customer financing commitment by $2.6 billion, to a current level of $2.1 billion.
The conference contained presentations -- of the long, droning sort -- by key Nortel managers, including CTO Greg Mumford (see
Corning: 'We've Hit Bottom'
); Brian McFadden, president, Optical Long Haul Networks; Pascal Debon, president, Wireless Networks; and Frank Plastina, president, Metro and Enterprise Networks.
When it was finally over, Dunn closed in typically lackluster fashion: "Hopefully, we've conveyed to you that we have a game plan."
By early afternoon, Nortel shares had dropped with the rest of the market and were down $0.52 (7.60%) to $6.32.
— Mary Jander, Senior Editor,
Light Reading
http://www.lightreading.com
UPCOMING LIVE EVENTS
June 6-8, 2023, Digital Symposium
June 21, 2023, Digital Symposium
December 6-7, 2023, New York City
All Upcoming Live Events
PARTNER PERSPECTIVES
- content from our sponsors