The "silly pricing" that has forced Nokia Networks (NSN) to walk away from at least one major mobile infrastructure deal in India has now shifted into the managed services market, according to the vendor's CEO, Simon Beresford-Wylie.

Talking to Light Reading briefly at a media and industry analyst event held at London's Globe Theatre Tuesday, Beresford-Wylie spoke of the "silly pricing" that has made some deals in high-growth emerging markets, such as India, untenable. (See Nokia Siemens Gets Ruthless on R&D Focus and Rouanne Has Ericsson in His Sights.)

NSN last year walked away from a GSM equipment deal with Indian operator Bharat Sanchar Nigam Ltd. (BSNL) because the price per line dropped below the vendor's breakeven level. (See Upheaval in India's Mobile Market and Nokia-Siemens Balks at BSNL Contract.)

Beresford-Wylie says such low prices are typical of a highly competitive situation in an emerging market. "Wherever there is growth you get a greater propensity for irrationality," says the CEO, pictured below. "The BSNL deal, that was last year's example... it was the biggest one. That's why we made such a big noise about it."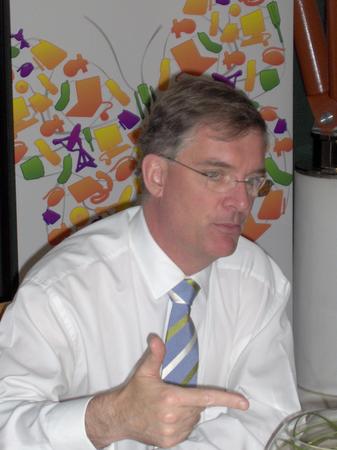 He says he wanted to spread the word that the price situation was running out of control, but that "you can't just go calling up your rivals to talk about it, so... [our statements were] for our customers to hear, and our employees, to know that we are focused on profitability. Our noise got equal attention from rivals, customers, and employees. That sort of pricing is destroying value, and the operators in India are making good margins, even if the ARPUs are low."

Since then, the pricing of mobile infrastructure deals has improved. "There is less irrationality, but there are some in the market that are still irrational, and that's for their own reasons –- trying to build market share," he avers, declining to confirm that he is referring to Chinese rivals Huawei Technologies Co. Ltd. and ZTE Corp. (Shenzhen: 000063; Hong Kong: 0763).

But that doesn't mean the cut-throat pricing has disappeared –- it's just transferred to a different sector. "Now, it's all about managed services. Managed services is a growth pocket, and there is a rush into this area. We have looked at a lot of managed services deals, and there is more widespread irrationality, with silly pricing and terms and conditions."

NSN's policy is to take on deals that are profitable only, and managed services deals are closely scrutinized. "In NSN, pretty much every [managed services] deal comes before the board, because it involves headcount and costs," says the CEO. "I saw details of one deal today, and I was staggered at what a rival had signed up to."

— Ray Le Maistre, Silly News Editor, Light Reading