DENVER -- NFV & Carrier SDN -- Along the path to virtualization and automation, the industry needs to shift to a model where VNFs are divided into network elements that are individually composable and scalable, said Verizon's Fred Oliveira in his keynote Wednesday.
Oliveira, a Fellow in Verizon's Network Technology Planning group, which works on SDN and NFV architecture for Verizon Communications Inc. (NYSE: VZ)'s network cloud platform, focused his keynote on the challenges and opportunities the operator faces around NFV orchestration.
Early VNFs have been "just a simple, direct port of what was on the bare metal environments, and we're trying to improve that in several different ways," said Oliveira. "Part of the value of the environment is automation, and automation has to be driven by some level of orchestration."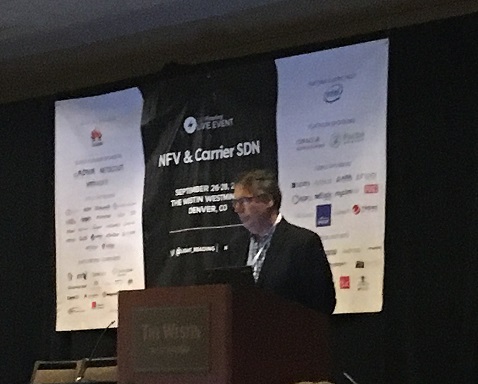 VNFs today don't have well described processes for lifecycle management, said Oliveira -- but really, he said, the operational structures need to move more toward lifecycle management of the network service itself. The challenge lies in moving away from spending significant time on individual VNFs to giving "some of the automation to the orchestration world."
Another challenge in NFV orchestration is the reliance on proprietary workflows and user interfaces, which require custom integration. There's also the internal, cultural challenge to enabling automation in that many people are risk-averse and hesitant to change, he added.
The ETSI NFV MANO environment provides a framework to address some of the orchestration challenges, as well as the capabilities for multiple vendors to cooperate in this space. However, Oliveira said ETSI struggled to get enough specifications for multiple vendors to be able to independently develop components that will work together.
Some of these orchestration challenges could be addressed by open source software.
"The open source world enables lots of innovation possibilities, and there's a lot of opportunity for people to develop components, contribute their ideas, enable different functionality at different points within this environment and deliver that as raw source code," Oliveira said.
While OSM and ONAP provide potentially viable solutions, moving them to a production environment is difficult, he added.
"Open source is not necessarily equated with 'free.' It takes a lot of work to make an open source environment actually work in a production world. If you're pulling source from the head of the tree and trying to deploy that in a production world it's not going to be a good result. We'll go from five nines down to one nine."
Ultimately, VNF environments need to be more scalable, and operators need to work closely with vendors to help them re-architect applications, said Oliveira.
"Things aren't all bad," he said. "We are seeing significant movement in the industry, and there's light at the end of the tunnel."
— Kelsey Kusterer Ziser, Senior Editor, Light Reading